Mondo Unleashes New 'Jurassic Park' And 'Jurassic World' Prints By Kako And Dan McCarthy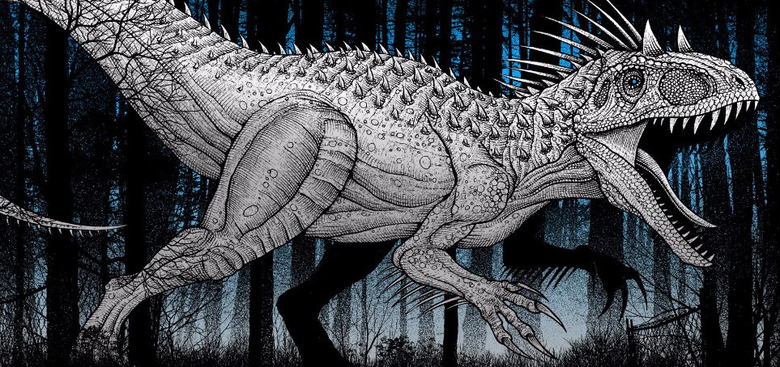 While we're patiently waiting for the next installment of the Jurassic Park/Jurassic World franchise, Mondo is biding our time with a couple new prints that pay tribute to both the original Steven Spielberg and the legacyquel.
Going on sale today is a Jurassic Park print by Kako as well as a Jurassic World print by Dan McCarthy. But if collectible prints aren't your thing, there's also a new set of enamel pins inspired by the paddock logos from the park. Check out the new Mondo Jurassic Park print, Jurassic World print and enamel pins after the jump.
First up, here's the Jurassic Park print by Kako from Mondo's blog:
This print is particularly cool because it's presented from the perspective of Lex and Tim as they are attacked by the escaped Tyrannosaurus Rex. The regular version (left) has an edition of 275 and will cost $45 while the In-Gen night vision variant has an edition of 150 and will cost $65.
Next up, we have Dan McCarthy's Jurassic World poster featuring the Indominus Rex:
This is almost like an Info•Rama poster, just with less information, as it breaks down all of the animals that were used to create this genetically engineered hybrid dinosaur that wreaked havoc on the fully operational Jurassic World. The regular version (left) has an edition of 275 and costs $45 while the variant has an edition of 125 and will cost $65.
Finally, as we said, if you're not a collectible print kind of fan, but you have an affinity for enamel pins, Mondo has this batch of pins available for sale:

Each pin has a paddock logo of either the Velociraptor, Brachiosaurus, Tyrannosaurus Rex, Dilophosaurus or Triceratops. The pins cost $10 each or you can get the whole set for $40.
As usual, all of these items will go on sale at a random time today on the @MondoNews Twitter, so stay tuned over there to make sure you can get your hands on these cool pieces.