George R.R. Martin Says The Next 'A Song Of Ice And Fire' Book May Be Out This Year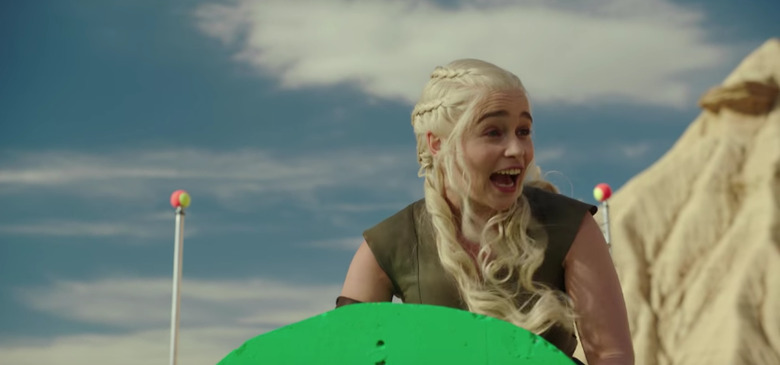 It's been a year since George R.R. Martin offered an update on the sixth novel in his A Song of Ice and Fire series, the source material for HBO's Game of Thrones. Since then, the television adaptation has sprinted past the events of the books, taking fans into unexplored territory far beyond the events of A Dance With Dragons, which was published back in 2011. And since the last update essentially amounted to "the next book isn't coming out soon," maybe we can take comfort in Martin's new update, which amounts to "Maybe this year?"
Fans have been pestering Martin about book six, titled The Winds of Winter, for six years now, so you can't blame the man for often sounding a little testy when people demand that he write faster, as if concocting these complex 1,000-page narratives is easy. Anyway, someone requested a book update under one of his recent LiveJournal posts (I love that George R.R. Martin still maintains his LiveJournal) and he gave a somewhat optimistic response:
Not done yet, but I've made progress. But not as much as I hoped a year ago when I thought to be done by now. I think it will be out this year. (But hey, I thought the same thing last year.)
For the record, here's the previous update from a year ago, when Martin announced that The Winds of Winter would not beat Game of Thrones season 6 into existence:
Unfortunately, the writing did not go as fast or as well as I would have liked. You can blame my travels or my blog posts or the distractions of other projects and the Cocteau and whatever, but maybe all that had an impact... you can blame my age, and maybe that had an impact too...but if truth be told, sometimes the writing goes well and sometimes it doesn't, and that was true for me even when I was in my 20s. And as spring turned to summer, I was having more bad days than good ones. Around about August, I had to face facts: I was not going to be done by Halloween.
While Game of Thrones and A Song of Ice and Fire both take place in the fantasy world of Westeros and still focus on the same characters, the show has diverged so much from the source material at this point that they might as well be different stories altogether. In a weird way, it makes everything doubly satisfying – you read one version of a story you love and then watch the television adaptation from another dimension. Anyway, the show has killed off characters who are alive in the show (and vice versa), so The Winds of Winter should hopefully still feel fresh, even to those who have already watched the show tread into the future.
And in any case, I'm not going to get too exited about The Winds of Winter coming out this year. I've been burned before. Just let us know when it's finished, Mr. Martin.
For those who are curious, Martin's actual blog post touched on the recent Golden Globe Awards, where he praised the Hollywood Foreign Press' willingness to nominate genre fare while also expressing disappointment that none of it won anything:
Of course, the weekend was not all about football. Last night we also had the Golden Globes. Where Lena Headey lost, and GAME OF THRONES lost, and WESTWORLD and its two amazing actresses lost as well. Pfui. That was disappointing, but not unexpected. The Hollywood Foreign Press Association surprised me this year by nominating three genre shows — GOT, WESTWORLD, and STRANGER THINGS — for Best Drama, but in the end they reverted to form and passed over all of them in favor of the safe choice, the 'prestige' historical drama THE CROWN. (Which I did enjoy, mind you, even though I went away thinking that while it may have been good to be the king in the Middle Ages, it really sucked to be the queen in the 1950s). So: no Globes for us.
Game of Throne season 7 is expected to premiere sometime this summer. The Winds of Winter will arrive when it arrives.