A 'La La Land' Stage Musical Is A Thing That Could Happen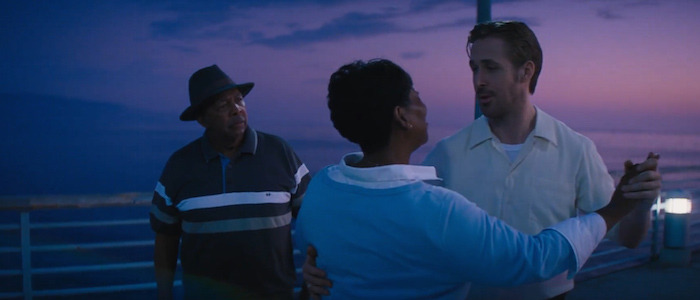 We've reached the point where everyone should be getting pretty sick and tired of hearing about the greatness of La La Land, but here's the thing: it is pretty darn great. Damien Chazelle's second film was one of my favorite movies of 2016, ranked number three on the overall /Film top 15, and has been making bank at the box office while picking up awards right and left. It's probably going to win a bunch of naked golden men at the Oscars next month.
In fact, I like La La Land so much that not even the news that Lionsgate may capitalize on its success by transforming it into a stage musical can dampen my enthusiasm.
The news comes our way via The Hollywood Reporter, who quote Lionsgate Motion Picture Group co-president Erik Feig saying to investors: "If we want to do a stage show, we can do a stage show." THR also notes that Feig cited the company's live Step Up show, currently playing in Dubai "as a template for exploiting La La Land beyond the multiplex" (which is a sentence that sends chills down my spin, personally).
Look, this news shouldn't come as a surprise at all. We live in an age where every Disney musical is getting its own stage adaptation, where stage adaptations of popular movies have become Broadway's bread and butter. La La Land, being a musical, is an obvious target for this kind of transition. I'd argue that its low-key charms are better suited to cinema than a live stage and that the film's very careful appropriation of familiar movie musical imagery would be lost in translation, but what do I know? I'm not calling the shots at a major entertainment company.
Anyway, it's easy to see why Lionsgate and Summit want to milk La La Land for all its worth. The film has made $88 million at the box office worldwide and it's not slowing down. It swept the Golden Globes, winning a record-breaking seven awards. It just received 11 BAFTA nominations and was among those nominated at the PGAs. And it's done all of this while being a good movie, which is easier said than done, considering how often the awards season gets this kind of stuff wrong.
The real trick now is continuing to love La La Land even as the hype train gets into overdrive. Thankfully, La La Land itself makes that pretty easy.