'Beauty And The Beast' Photos: New Shots Of The Beast's Grumpy Face And Luke Evans As Gaston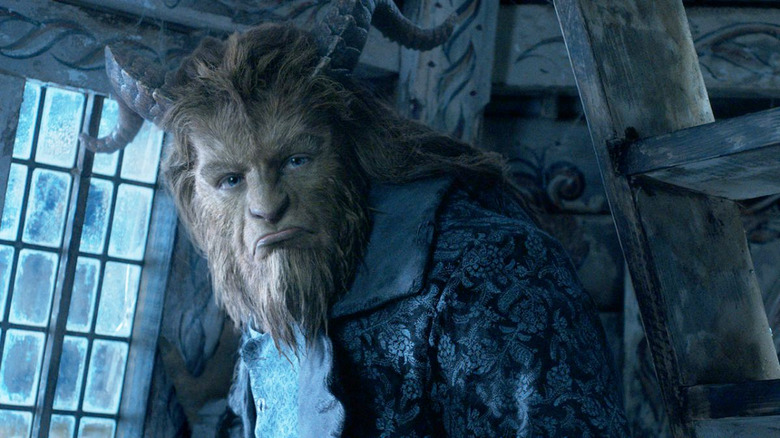 Following the
for Disney's live-action adaptation of their own animated classic Beauty and the Beast, complete with Emma Watson belting out one of the signature tunes, some new photos from the movie have surfaced online.
The new Beauty and the Beast photos provide us with some of the best stills yet of the visual effects used to bring The Beast (Dan Stevens) to life. In addition, we get two new shots of Luke Evans as Gaston, along with Frozen star Josh Gad as his bumbling lackey LeFou.
Here are the Beauty and the Beast photos from
(via
):
The shots of Luke Evans as Gaston are clearly as he's inciting the town's villagers to follow him to The Beast's castle and kill him once and for all. For those thinking Gaston will be somewhat redeemable this time in live-action form, Luke Evans told Total Film:
"We didn't tone him down. I think we did the opposite. Everything he does, he does extreme. There was no point trying to find a way to tone it down."
Meanwhile, the two new shots of The Beast (including one with Emma Watson as Belle) are the most interesting shots. They take place in a clearly neglected part of the castle. Is this The Beast's room? In the original animated movie, The Beast's room was disheveled and messy, with broken and scratched furniture all around. But this was also where he kept the enchanted rose, so that doesn't seem to be the same room, unless it's up that ladder.
Instead, I'm wondering if this is one of the additions that has been made to the live-action adaptation. Maybe this was The Beast's childhood room. After all, there's a crib there in the foreground of the shot with Belle, and there's a child-size bed with a step in front of it in the background. Maybe we get to learn more about the prince's childhood and family this time.
Disney's "Beauty and the Beast" is a live-action adaptation of the studio's animated classic which refashions the classic characters from the tale as old as time for a contemporary audience, staying true to the original music while updating the score with several new songs. "Beauty and the Beast" is the fantastic journey of Belle, a bright, beautiful and independent young woman who is taken prisoner by a beast in his castle. Despite her fears, she befriends the castle's enchanted staff and learns to look beyond the Beast's hideous exterior and realize the kind heart and soul of the true Prince within.
Beauty and the Beast is in theaters March 17, 2017.