A24 Releases Teaser Trailer For A Mysterious Untitled Science Fiction Film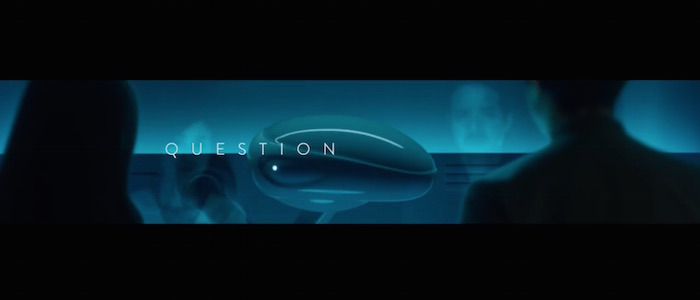 There are only a handful of entertainment companies whose logos feel like a genuine promise of quality and A24 is one of them. Since their modest start in 2013, they have become an independent film powerhouse, regularly distributing some of the best movies released in a given year. Just look at some of the movies they released in 2016: Moonlight, Green Room, Swiss Army Man, The Witch, American Honey, 20th Century Women, and The Lobster. In other words, some of the best movies of the past year.
So when they unveil a mysterious teaser trailer for an untitled and unannounced science fiction movie, it's enough to make me sit up and pay attention. What are they working on here? And when will get a chance to see it?
Those questions will have to remain unanswered for now, as this footage offers only mystifying images and strange phrases without a hint of character or plot. And that's perfectly fine! What is on display here certainly looks weird and evocative, reminding me very much of Ex Machina (another stellar A24 release). If A24 decided this is something worthy of their attention, then history has shown that it will probably be something worthy of my attention.
It is worth noting that this teaser was originally uploaded to YouTube with the title "TOR TSR WITNESS," just in case anyone happens to know what the hell that could mean.
Transforming new movies and television shows into "mystery" events has become increasingly common over the past couple of years, feeling like a healthy rejection of the expensive blockbusters that begin advertising before a single frame has been shot. We saw it last year with 10 Cloverfield Lane, which was announced with a teaser trailer only a few months before it hit theaters. Netflix played a similar game with The OA, keeping the show behind a shroud of secrecy before releasing the first trailer mere days before the first season arrived. The "Hey, this exists! Surprise!" tactic worked out well for both of them, leading to a sudden surge in interest that didn't have time to be deflated by overexposure.
It remains to be seen what A24 is hiding here. It could be a top secret movie from a filmmaker we already love. It could be the promising debut of a new filmmaker and A24 is playing a smart game to get us all interested. In either case, I would very much like to know more. Mission accomplished, people.