'XX' Trailer: All-Female Horror Anthology Rounds Up Karyn Kusama, Annie Clark & More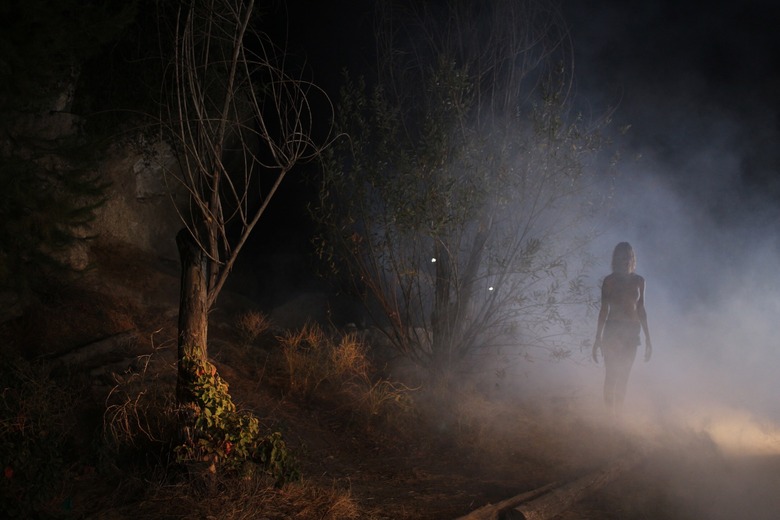 Horror filmmaking, like most other kinds of filmmaking, tends to be kind of a boys' club. But the women will get a chance to shine this winter in XX, a horror anthology driven entirely by female directors. Those include Karyn Kusama, who last helmed the fantastic The Invitation; Annie Clark, a.k.a. St. Vincent, who is making her directing debut; Roxanne Benjamin, who's contributed to Southbound and the V/H/S series; and Jovanka Vuckovic, who's known for her short films including The Captured Bird; with animator Sofia Carrillo (La Casa Triste) weaving them all together.
Check out the first XX trailer below.
XX Trailer
XX was first announced back in 2013 with a somewhat different lineup. Only Kusama and Vuckovic have remained on board this whole time. At the time, producer Todd Brown talked up the importance of putting female voices front and center. "One of the givens of so many horror films has been the objectification of young women, and we thought it was time for a different approach to scaring audiences and letting the female voice be heard."
In addition to being directed by women, the XX segments will also prominently feature female stars including Melanie Lynskey, Sheila Vand, Natalie Brown, Breeda Wool, and Christina Kirk. For anyone who's ever yearned for a stronger female presence in the genre, XX feels like a gift. An actually nice gift, I mean, not the kind of creepy and weird gift like we see in the trailer.
XX will have its world premiere at the Sundance Film Festival on January 22 before making its way to theaters and VOD on February 17.
XX is a new all-female helmed horror anthology featuring four dark tales written and directed by fiercely talented women: Annie Clark (St. Vincent) rocks her directorial debut with THE BIRTHDAY PARTY; Karyn Kusama (THE INVITATION, GIRLFIGHT) exorcises HER ONLY LIVING SON; Roxanne Benjamin (SOUTHBOUND) screams DON'T FALL; and Jovanka Vuckovic (THE CAPTURED BIRD) dares to open THE BOX. Award-winning animator Sofia Carrillo (LA CASA TRISTE) wraps together four suspenseful stories of terror featuring a cast including Natalie Brown, Melanie Lynskey, Breeda Wool and Christina Kirk.