WTF: 'Riverdale' Could Have Been A Movie With A Time-Traveling Archie Played By Louis C.K.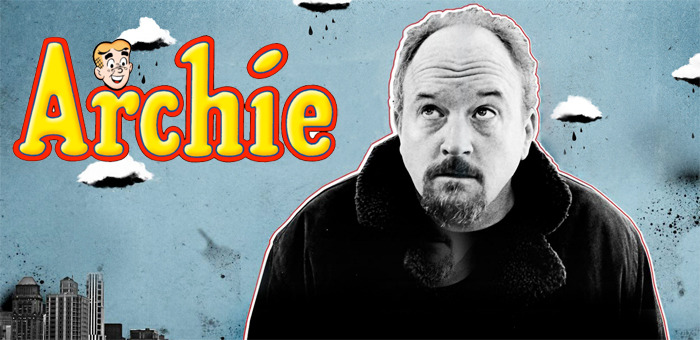 In case you haven't heard, the classic comic character Archie is coming to The CW in the form of a TV series called Riverdale. It's a modern, dark approach to the source material that has Archie (KJ Apa), Betty (Lili Reinhart), Veronica (Camila Mendes), Jughead Jones (Cole Sprouse), Josie (Ashleigh Murray) and more dealing with a death in their small town, secrets waiting to be discovered, and something dark and dangerous biding its time.
It's a far cry from the original Archie comics that fans are used to, but there was a brief moment when the pitch for a project adapting these characters for the screen would have been drastically different. Believe it or not, there was a time when Riverdale could have been a movie starring Louis C.K. as a time-traveling Archie.
Find out more about this thankfully abandoned time traveling Archie movie after the jump.
Before creator Robert Aguirre-Sacasa and producer Greg Berlanti teamed up for Riverdale, the former was working with Pitch Perfect director Jason Moore, taking a pitch for a coming-of-age drama about Archie around town. TV Guide reveals that the two caught the eyes of Sarah Schecter at Warner Bros., but in order for it to move forward, they had to talk to the vice president of the company. And like some kind of movie executive cliché, he had some awful ideas of his own.
During a Television Critics Association panel over the weekend for The CW's upcoming shows, Aguirre-Sacasa explained how this meeting went down:
We go to the kickoff meeting and he said, 'You know, I've been thinking about this and I think you guys need to something a little more high concept, a little bigger than a coming-of-age [story].' I said, 'Yeah, great. We're open to that.' He goes, 'I want you to think about time travel.' I say, 'What do you mean?' 'You know, Archie traveling through time.'
Aguirre-Sacasa and Moore somehow managed not to laugh in the face of this vice president, but they indicated that they were not too keen on time travel. Thankfully, this guy had another suggestion that sounds even more like a parody of a typical Hollywood executive. Aguirre-Sacasa explains his follow-up:
[He goes], 'Portals are huge. This is a portal to another dimension.' We're just sitting there gobsmacked.
Wow. Time travel and portals for an Archie movie. This doesn't even sound real. Though to be fair, the Archie comics have done some pretty high concept crossovers that have seen Archie meeting the Teenage Mutant Ninja Turtles, The Punisher and even Predator, so it's not entirely an insane idea to incorporate sci-fi elements.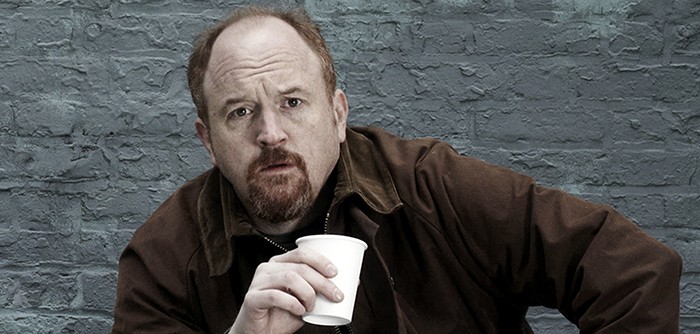 But before the meeting was done, this executive had one more incredible idea. "He's like, 'What if Louis C.K. is Archie?'"
Honestly, having Louis C.K. play Archie in some kind of subversive, modern adaptation of Archie later in his life doesn't sound all that bad. But when you consider that this executive wanted the comedian in the role with time travel or portals involved, this just sounds positively insane.
Aguirre-Sacasa and Moore actually took some time in an attempt to make a high-concept adaptation of Archie come together, but obviously it never came to fruition, and we're probably all the better for that. In the end, Sarah Schecter ended up getting a job about a year later working with Greg Berlanti, and she brought Aguirre-Sacasa back in to try Archie again, and now we have Riverdale.
If you haven't seen the trailer yet, here you go:
Riverdale hits The CW staring on January 26 at 9pm ET/PT