'Cars 3' Trailer: Lightning McQueen Is Back For The Third Lap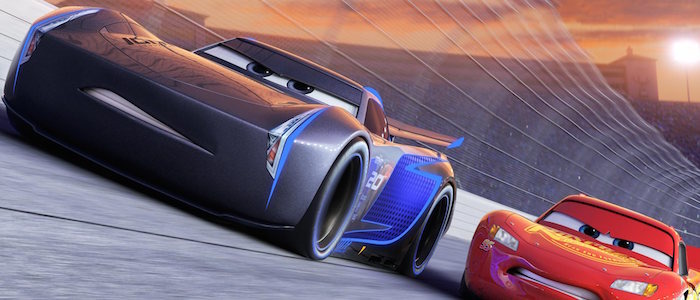 The Cars movies have always been the redheaded stepchildren of the Pixar family. Compared to the likes of Toy Story, Up, Inside Out, The Incredibles, and Ratatouille, these anthropomorphic cars and their baffling world have always stood on the fringes, appealing the young children in the family while the studio's other movies tend to win over just about everyone.
So what are we to make of Cars 3, whose first teaser trailer suggested a wild left turn for a series that felt stuck in neutral after the second movie? The new trailer sheds more light on what we can expect.
As that first footage suggested, Cars 3 won't be kind to its lead character, hotshot racecar Lightning McQueen (still voiced by Owen Wilson). In fact, "hotshot" probably isn't the right word anymore, as the second sequel will acknowledge the passage of time and find Lightning entering middle age, a time when every professional athlete starts to notice just how much stronger and faster these new kids are. Conceptually, it's very much in line with the often complex and human concepts seen in other Pixar movies. But can they pull it off? With these characters? Let's watch the trailer and find out:
Cars 3 Trailer
The trailer arrives shortly after we learned our first details about the movie's plot from Brian Fee, a storyboard artist on the first two movies making his directorial debut with part three:
McQueen is not the young hotshot anymore, the kid he was back then in Cars 1. He's in the middle of his life, and as an athlete, that's getting up there. You have your whole life ahead of you, yet your career is starting to show its age. He's looking in the mirror and realizing, "I'm 40 years old," and dealing with the fact that the thing that you love more than anything else, you might not be able to do forever.
We also learned that Cars 3 will introduce a new cast of "millennial" cars, youngsters who reflect the past decade of advancements in automotive technology. Lightning McQueen has found himself a new rival in Jackson Storm, a slick racer voiced by Armie Hammer. He also has a new ally in Cruz Ramirez (Cristela Alonzo), his youthful new coach who just-so-happens to be a huge fan of Lightning.
Cars 3 is set to drive into theaters on June 16, 2017.