'xXx: Return Of Xander Cage' Clip: Let Vin Diesel Show You What ''Jungle Jibbing'' Is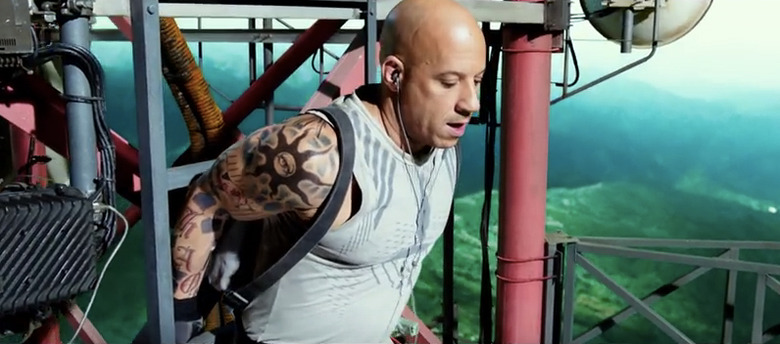 As we see more footage of Vin Diesel in action from xXx: Return of Xander Cage, it's clear that we're getting a movie that is somehow even more ridiculous than anything from the Fast and Furious franchise. Because Diesel's character is an extreme athlete turned government operative, this affords the movie a suspension of disbelief so wacky that we're totally cool with dirtbikes turning into jetskis. And now we're going to have to accept another equally insane stunt.
A new xXx Return of Xander Cage clip has been revealed, and it features Diesel taking quite the leap off a radio tower and into the jungle. But don't worry, he's equipped with the best tools for surviving a leap like that: skis. That's right, Vin Diesel skis through the jungle, tossing some stylish flips in there just for good measure.
As you might have noticed in the clip, this skiing through the wilderness is called "jungle jibbing," which is actually something that people do as a hobby, though not always in the jungle. If Diesel is trying to evade getting captured or killed, I'm not sure why he's taking the time to pull off those sweet flips through tree branches. But it's a xXx movie, so we just have to refrain from asking questions like that.
Honestly, as someone who likes Vin Diesel only because of his passion for making entertaining movies that know exactly what they are, this movie looks like it will deliver exactly what fans have been waiting to see since he left the xXx franchise behind after the first film debuted 15 years ago.
In addition to Diesel, the rest of the cast in the movie from director D.J. Caruso (Disturbia, Eagle Eye) includes Toni Collette, Tony Jaa, Deepika Padukone, Kris Wu, Nina Dobrev, Rory McCann, Michael Bisping and Samuel L. Jackson, not to mention Rogue One favorite Donnie Yen as the film's villain.
The third explosive chapter of the blockbuster franchise that redefined the spy thriller finds extreme athlete turned government operative Xander Cage (Vin Diesel) coming out of self-imposed exile and on a collision course with deadly alpha warrior Xiang and his team in a race to recover a sinister and seemingly unstoppable weapon known as Pandora's Box. Recruiting an all-new group of thrill-seeking cohorts, Xander finds himself enmeshed in a deadly conspiracy that points to collusion at the highest levels of world governments. Packed with the series' signature deadpan wit and bad-ass attitude, "xXx:RETURN OF XANDER CAGE" will raise the bar on extreme action with some of the most mind-blowing stunts to ever be caught on film.
xXx: Return of Xander Cage opens in theaters January 20.