'The LEGO Batman Movie' TV Spot: The Brick Knight Doesn't Do Hugs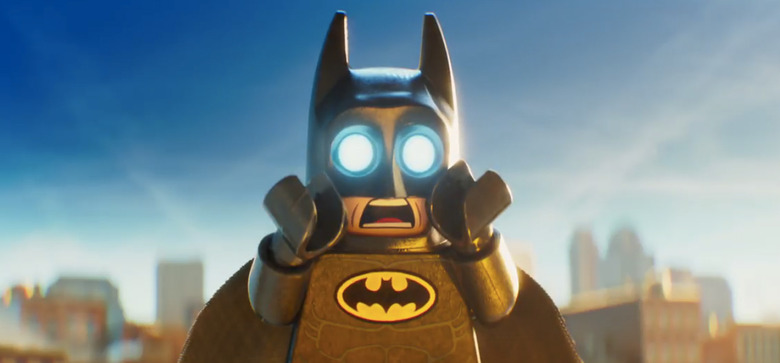 We're just a little over a month away from the release of The LEGO Batman Movie, giving us the building block version of The Dark Knight, who stole more than a few scenes in The LEGO Movie a few years back. Will Arnett is back in the lead voice role, and quite the assembly of talent surrounds him, playing various characters from Batman's mythology, some of which we've never seen on the big screen before. But a new TV spot focuses on one of Batman's staple characters, his loyal sidekick Robin.
Michael Cera voices The Boy Wonder, but this version of Batman is just as resistant to working with a partner (or anyone really), simply because he's afraid of losing anyone who gets close to him again. It's actually kind of sweet, even if LEGO Batman isn't a fan of hugs. You'll see what I mean in a new The LEGO Batman Movie TV spot after the jump.
LEGO Batman's not really a hugger. Don't miss #LEGOBatmanMovie in theaters February 10. pic.twitter.com/tPxy2IiEzT

— LEGO Batman (@LEGOBatmanMovie) January 7, 2017
In addition to LEGO Batman and Robin, the roster of characters includes Bruce Wayne's trusty butler Alfred (Ralph Fiennes), Gotham City police commissioner Barbara Gordon, aka Batgirl (Rosario Dawson), Batman's nemesis The Joker (Zach Galifianakis), the clown prince's sidekick Harley Quinn (Jenny Slate), Two-Face (Billy Dee Williams) and Mayor McCaskill (Mariah Carey). I wouldn't be surprised if all the villains from Batman's Rogues Galley are voiced by other familiar voices, but I think Warner Bros. Pictures is trying to save some surprises for when the movie arrives next month.
The LEGO Batman Movie landed on my list of the most anticipated movies of 2017 (and Jacob Hall's too), and every bit of footage we see from the movie just gets me more excited. With The LEGO Movie co-director Chris McCkay on board, hopefully this will be every bit as good as the first imaginative building block movie, even without Phil Lord & Chris Miller on board as directors with him.
It's certainly a good year to be a Batman fan since Ben Affleck will return as The Caped Crusader in Justice League later this year as well. But for those who may have a bad taste in their mouth after Batman v Superman: Dawn of Justice, there's a good chance The LEGO Batman Movie will be a good remedy.
In the irreverent spirit of fun that made The LEGO® Movie a worldwide phenomenon, the self-described leading man of that ensemble—LEGO Batman—stars in his own big-screen adventure. But there are big changes brewing in Gotham, and if he wants to save the city from The Joker's hostile takeover, Batman may have to drop the lone vigilante thing, try to work with others and maybe, just maybe, learn to lighten up.
The LEGO Batman Movie drops into theaters February 10.