Shane Black's 'Predator' Reboot Adds Keegan-Michael Key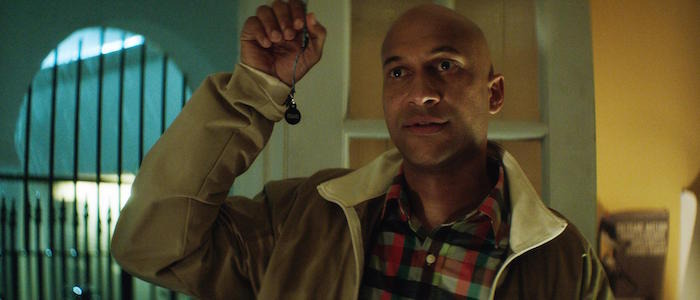 I'm still not entirely sure what a new Predator sequel directed by Shane Black will look and feel like, but I'm increasingly eager to find out. The cast of The Predator has officially started taking shape and the fantastic Keegan-Michael Key is the latest actor recruited to do battle those crab-faced alien hunters.
The Hollywood Reporter has the news, saying that Key will play a man who teams up with characters played by Boyd Holbrook and Trevante Rhodes battle the aliens. Holbrook and Rhodes are apparently playing former Marines while Olivia Munn will play a scientist. It's not clear if Key's character will have any kind of advantage in a mano-a-mano fight with an extraterrestrial race that has previously made mincemeat out of some very tough people or if his job role in the film will involve bringing some levity to the situation.
The latter seems likely given Key's success as one-half of Key & Peele, where he contributed to some of the smartest, silliest, and most blistering sketch comedy television has ever seen. And while that show has come to an end, he's been a reliably hilarious presence on television for some time now, lending his talents to shows like Modern Family, Parks and Recreation, Archer, Bob's Burgers, and BoJack Horseman. He was omnipresent in 2016, appearing onscreen in Keanu and Why Him? while voicing characters in Storks and The Angry Birds Movie.
But while it's easy to peg him as a comedy guy, Key is a fine actor with a range that has often been untapped. Just see his recent work in the wonderful Don't Think Twice, where he plays a conflicted improv comedian who finds his life torn apart after landing a role on a major television show. He could be The Predator's comic relief, but Black could also be looking to utilize in him a way that we haven't seen before.
In either case, The Predator looks like it's shaping up to be one to watch. Shane Black is fresh off The Nice Guys, one of 2016's most entertaining movies, and he had the good taste to cast Rhodes, who gave one of the absolute best performances of last year in Moonlight. I'm less familiar with Holbrook (who plays the lead villain in Logan), but this is a combination of actors that I'm eager to see fight aliens together.
Plot details of The Predator remain unknown, but it was previously reported that the film will take place in the suburbs. And then it was reported that it won't take place in the suburbs. And now, THR is saying that it does take place in the suburbs, so whatever. We'll figure it out eventually.