'Frontier' Trailer: Jason Momoa Is A Deadly Fur Trader In Netflix's New Series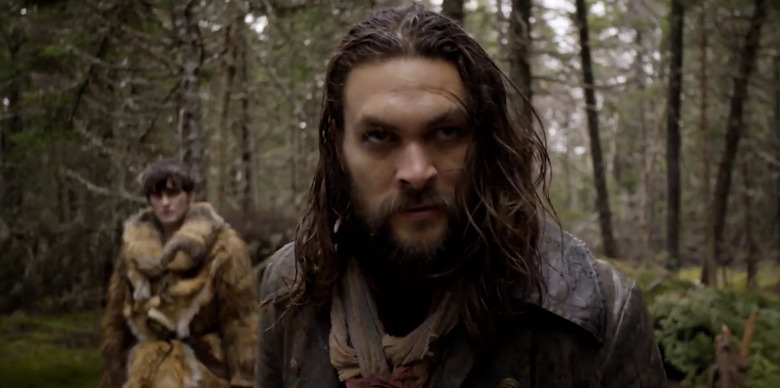 Tom Hardy is coming to FX next week with a new series called Taboo that sees him inheriting what's left of his father's shipping empire in 1814, bringing with him a ruthless attitude for dealing with his competitors and anyone who stands in his way. It appears merging deadly, strong lead characters with business from centuries ago is a popular trend in TV right now, because Jason Momoa is venturing even further back in time for a new series on Netflix.
Frontier sees Jason Momoa as Declan Harp, a fur trader who is driven by lust and revenge, basically a Khal Drogo for the late 1700s. Harp finds himself warring with various factions for control of the North American fur trade, and all the power, money and glory that goes with it. In the first Frontier trailer, you can see that Jason Momoa is all business. Watch it below.
Declan Harp (Momoa) is a part-Irish, part-Native American outlaw creating trouble for the Hudson's Bay Company, which not only had a monopoly on the fur trade in the land that would become Canada, but they were also the largest single land owner there at the time. That makes for some pretty steep and powerful competition, but it's nothing that the mountain that is Jason Momoa can't handle.
As for the trailer, it doesn't feel quite as compelling as it should be. It almost feels like a show that would have fit alongside the likes of Hercules: The Legendary Journeys starring Kevin Sorbo or Xena: Warrior Princess with Lucy Lawless. There's just something about the drama that doesn't have the gravitas that it's trying to have. That last line that Jason Momoa grumbles is a prime example of what I'm talking about. Since this is directed by Brad Peyton (San Andreas), I guess that's not too surprising.
Anyway, in addition to to the future Aquaman star leading the series, the cast includes Landon Liboiron (Hemlock Grove), Alun Armstrong (Braveheart), Allan Hawco (Republic of Doyle), Jessica Matten (Blackstone), Shawn Doyle (House of Cards) and Zoe Boyle (Downton Abbey).
Frontier is created by Peter & Rob Blackie (Republic of Doyle), and Netflix must have some kind of confidence in the show already because it's been given a second season order before the first episode has debuted on Netflix (though it has been playing on Discovery Canada apparently).
You can watch the entire six-episode first season of Frontier starting on January 20.