'Spider-Man: Homecoming' Promo Details More Of Spidey's Suit Upgrades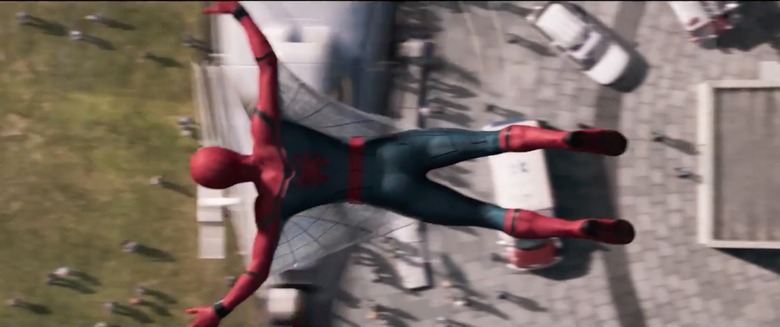 The debut of Spider-Man in Captain America: Civil War allowed the webslinger played by Tom Holland to get quite a suit upgrade when Tony Stark (Robert Downey Jr.) recruited him to help in his fight against Steve Rogers. As we've seen in the first trailer for Spider-Man: Homecoming, there have been even more additions to the suit, including web wings, a staple of the classic comics version of Spidey. And now a new promo video reveals some of the other key upgrades we'll see in the wallcrawler's first solo outing on the big screen.
To go along with the Consumer Electronics Show going on this week, Marvel has released a video looking at a few of the changes to Spider-Man's suit. They highlight some details that we already knew about, such as the web wings and the holographic display that was teased in the credits scene that played after Captain America: Civil War, but there are a couple new details we didn't know about as well.
Learn about the Spider-Man Homecoming suit upgrades below.
The most important upgrade out of #CES2017. #SpiderManHomecoming pic.twitter.com/PmJ0KDYpoY

— Marvel Entertainment (@Marvel) January 5, 2017
The first new detail revealed comes when the video focuses on the web shooters, which are now not only equipped with a laser targeting system, but have various kinds of webbing. There's no specific mention of the different types of web Spider-Man can sling, but surely one is better for wrangling criminals while another might be good for something like attempting to keep two pieces of a ferry from breaking entirely, both things we saw Spidey do in the first trailer.
It turns out that the holographic display system that we saw in the aforementioned Civil War credits scene has another helpful feature, a GPS tracking system. That's presumably so that Tony Stark can keep track of Spidey (is he still on that kick of thinking they need oversight?), just to make sure he's staying out of trouble. Or more likely, so he knows where to fly to if Peter Parker ever ends up dealing with something he can't handle by himself, like Michael Keaton and a sophisticated flight suit and deadly wings.
There is one thing that kind of annoys me about this video, though. When it moves to highlight the new eyes on Spidey's suit, all it says is "eyes are expressive." Really? That's it? The eyes are only expressive? There has to be something more to them than just allowing Spidey to express more through his eyes, right?
A young Peter Parker/Spider-Man (Tom Holland), who made his sensational debut in Captain America: Civil War, begins to navigate his newfound identity as the web-slinging super hero in Spider-Man: Homecoming.  Thrilled by his experience with the Avengers, Peter returns home, where he lives with his Aunt May (Marisa Tomei), under the watchful eye of his new mentor Tony Stark (Robert Downey, Jr.). Peter tries to fall back into his normal daily routine – distracted by thoughts of proving himself to be more than just your friendly neighborhood Spider-Man – but when the Vulture (Michael Keaton) emerges as a new villain, everything that Peter holds most important will be threatened.
Spider-Man: Homecoming debuts on on July 7.