POTD: See Ryan Gosling As 'Doctor Strange' In Some Pre-Production Concept Art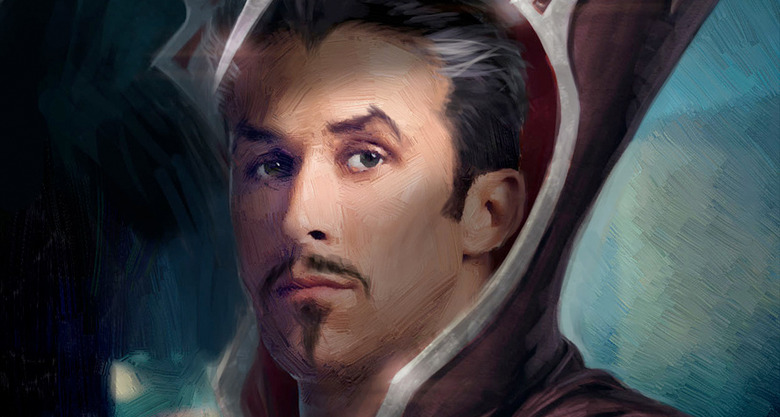 Even though Marvel Studios ended up picking Benedict Cumberbatch to play the title role of Doctor Strange in the second theatrical release this year, there were several options that were on the table at various times. Actors like Joaquin Phoenix, Jared Leto and Ryan Gosling were once in the running, and now we get to see what it might have been like to have one of those actors wearing the cape of The Sorcerer Supreme.
Concept artist Court Chu has shared two pieces that he created when Marvel Studios was hoping to land Ryan Gosling as Doctor Strange. It sounds like maybe their desire was short-lived, or maybe Gosling quickly turned down the role, because he says, ""I worked probably not even a day on some version of Doctor Strange years ago, and back then they wanted Gosling."
See the concept art of Ryan Gosling as Doctor Strange below.
Thanks to ComicBook.com for calling our attention to these from The Art Blog of Court Chu:
The piece on the left feels more in line with the design of Doctor Strange's wardrobe that Marvel ended up going with. It's somewhat more practical with cloth resembling that of the tunics that the students and masters wear at Kamar-Taj. Meanwhile, the other suit has a texture that feels like it's more in line with a superhero suit, or maybe something Thor might wear under his armor.
But in both instances, the collar of the cape feels far too exaggerated and impractical. Granted, a cape in general is rather impractical, but since it has a mind of its own and chooses who wears it, it works for someone like Doctor Strange. But again, those collars are a bit ridiculous, even if they are true to some designs from the comics.
Maybe it's just because I'm comfortable seeing Benedict Cumberbatch in the role, but I feel like it's rather odd seeing Ryan Gosling as Doctor Strange. First and foremost, I think he just looks too young to play the character. Even though he's only four years younger than Cumberbatch, he still has a young face, and a character like Doctor Strange feels like he needs to at least look a bit older. That version of the goatee on Gosling looks extremely silly as well, like he's some kind of magician.
In the end, I think it worked out that Ryan Gosling didn't get the role, because if he was making Doctor Strange, he probably wouldn't have been available to make La La Land, which is not only my favorite movie of the year, but a huge movie for Gosling that will be up for tons of awards.
Doctor Strange will be available for purchase on Digital HD on February 14 followed by a release on Blu-ray and DVD on February 28.