Drew Barrymore's Netflix Sitcom 'Santa Clarita Diet' Is Not About What You Expected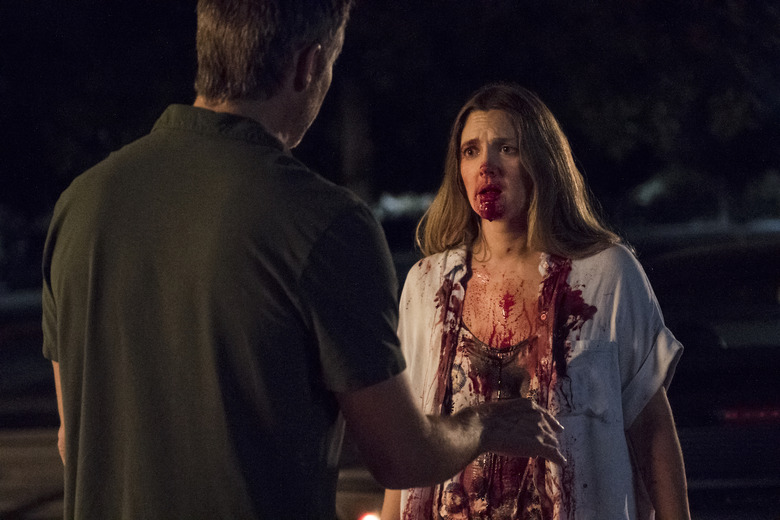 Timothy Olyphant is an actor we're happy to see is starring in a new series. He's the kind of performer you're pleased to see show up in any medium, but with a show, it means our time isn't limited with the Justified star, who has such a relaxed, natural charisma. With his new show, Netflix's Santa Clarita Diet, he's acting alongside the equally charming Drew Barrymore, whose character undergoes a surprising change.
Below, learn what the Santa Clarita Diet is really about.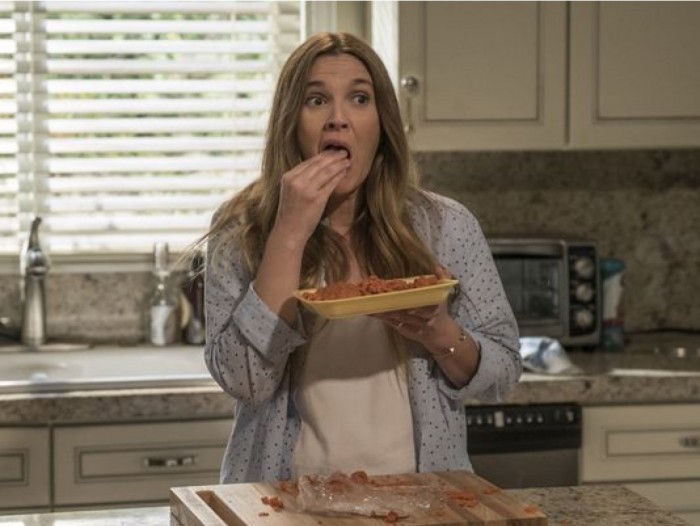 When showrunner Victor Fresco's (Better Off Ted) new Netflix series was announced, there was no mention of cannibalism. It was teased "Sheila (Barrymore) goes through a dramatic change" which sends her family's "lives down a road of death and destruction," but her death (or hunger) wasn't revealed until executive producer Drew Barrymore discussed the show with USA Today:
We can reveal that the "dramatic change" Sheila undergoes in the series opener is, in fact, death. And while they tend to their open houses and teenage daughter, the couple must sate Sheila's unbridled id and undead hunger, first with raw meat and, eventually, the human kind.
The series is about husband and wife realtors, Sheila and Joel (Olyphant), raising their teenaged daughter Abby (Liv Hewson) in Santa Clarita. Sheila and her stoner husband aren't fully satisfied with their lives, but her newfound hunger may lead to surprisingly good things for the couple.
Here's how Barrymore describes her character's transformation:
What if she finds herself, and we do this sort of Cro-Magnon type of evolution with her over the course of the 10 episodes. No gimmicks, no prosthetics, just an awakening. I just really enjoyed just shedding a snakeskin with her.
The actress calls the Santa Clarita Diet "optimistic." The show isn't about a "couple fighting and falling apart," "it's not heavy," and "it's not lacking in a sort of sweetness," according to Barrymore. Santa Clarita Diet does, however, "got bite and backbone and balls," which isn't a bad way to describe a television series, which sounds a bit more interesting now and features a guest appearance from Nathan Fillion as a competing realtor. I wonder how things end for his character...
Here are two new posters for the Netflix show:
And here's the official synopsis:
In Santa Clarita Diet, Joel (Timothy Olyphant, Justified) and Sheila (Drew Barrymore, Blended) are husband and wife realtors leading vaguely discontented lives in the L.A. suburb of Santa Clarita with their teenaged daughter Abby (Liv Hewson), until Sheila goes through a dramatic change sending their lives down a road of death and destruction...but in a good way.
Santa Clarita Diet is available to stream on Netflix starting February 3rd.