What Will 'Star Wars' Do With General Leia Now That Carrie Fisher Is Gone?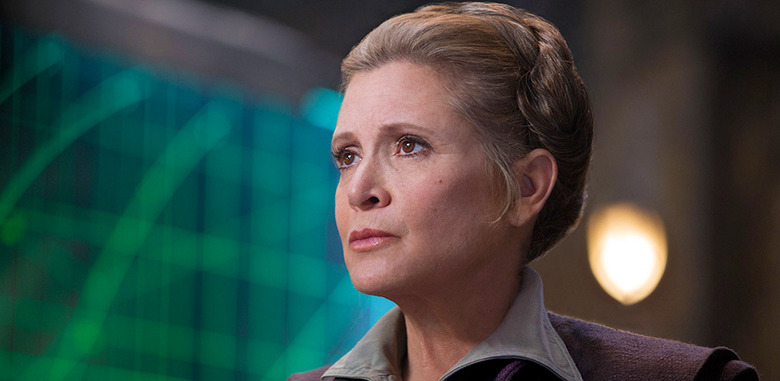 Family, friends and fans are still mourning the loss of not only Carrie Fisher, but also her mother Debbie Reynolds. However, once all the tributes have been made and the two actresses are laid to rest together, Disney and Lucasfilm have to think about what happens with Carrie Fisher's iconic character Leia Organa, the princess turned general who returned in Star Wars: The Force Awakens and has a sizeable role in the still untitled Star Wars: Episode VIII.
We've already learned that Carrie Fisher completed her filming on Star Wars: Episode VIII before she passed away. However, news has surfaced that Leia was supposed to play an even larger role in Star Wars: Episode IX, and about how that will be handled when production begins on the sequel.
Find out more about the future of Carrie Fisher in Star Wars Episode 8 below, but beware of a couple spoilers regarding two future scenes in the next episodes of the saga.
The Hollywood Reporter has learned that director Colin Trevorrow will be meeting with Kathleen Kennedy next week to discuss the options at their disposal for how to continue without Carrie Fisher. Since Fisher's role was completed in Episode VIII, you would think the biggest hurdle would be getting around what is supposed to be an even larger role in Episode IX. But it sounds like whatever Leia does in Episode VIII is what results in her larger role in Episode IX, so one option is reducing Leia's scenes in Episode VIII and reshooting them.
Let's not forget that Rogue One not only brought back Peter Cushing as Grand Moff Tarkin for a supporting role with the magic of visual effects, but also a 19-year-old Carrie Fisher as Princess Leia for a quick scene to close the movie. Another option is to use the same visual effects that accomplished that feat. But if that solution is used, it would still require some reworking of scenes, and a digital Leia would reportedly be used sparingly.
In the wake of this tragedy, the good news is that Disney and Lucasfilm have plenty of time to figure out what to do with Princess Leia. However, Leia is reported to have two key scenes in the future of the Star Wars saga. One would be a reunion with her brother Luke Skywalker (Mark Hamill) and the other a confrontation with Kylo Ren (Adam Driver). It is unknown as to which of the next two episodes features each or both of those scenes, so Fisher could have already shot them. If not, both of those are pretty important scenes, and I think it would feel disingenuous to use a digital recreation of Carrie Fisher to complete them.
Surely they'll have to figure out how to give Carrie Fisher a proper send-off, something that visual effects have already been used to accomplish following the death of Paul Walker in the middle of production of Furious 7. That was a much more difficult situation to navigate since only half the movie had been completed, and Walker's brothers needed to be used as stand-ins to complete certain scenes. But as we said, in the case of Star Wars, there is plenty of time to figure this out. We'll just have to wait and see how this is all handled and hope it's done respectfully and delicately.