VOTD: See How 'Rogue One' Brought Peter Cushing Back As Grand Moff Tarkin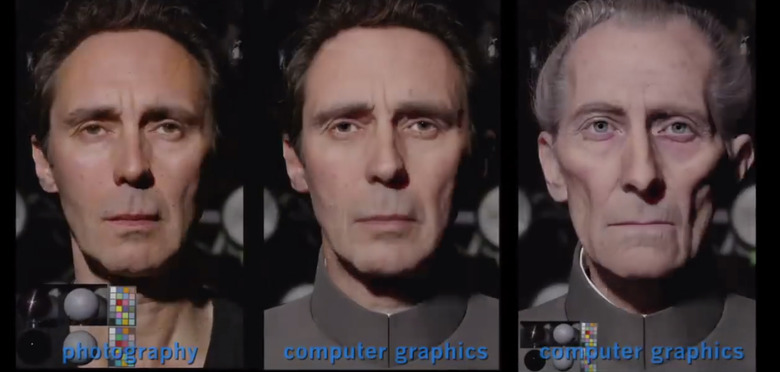 Now that Rogue One: A Star Wars Story has been in theaters for a few weeks, Disney, Lucasfilm and the crew behind the sci-fi saga spin-off are starting to reveal some of the secrets behind the making of the movie. Just recently the film's editors discussed the reshoots and a unique pre-production process, and now a story from Nightline reveals one of the most simultaneously impressive and unsettling elements of Rogue One.
Rogue One features the Star Wars: A New Hope character of Grand Moff Tarkin in a key supporting role as an adversary of sorts to Director Orson Krennic (Ben Mendelsohn). However, rather than having another actor simply play the part on-screen, Lucasfilm decided to have actor Guy Henry create a motion-capture performance where digital effects were used to essentially bring the late actor Peter Cushing back to life in the role he famously played back in 1977. Many have wondered just how this was achieved, and now a report from Nightline takes a dive into the process of how it was achieved.
Here's the Nightline report on the Grand Moff Tarkin visual effects in Rogue One:
One of the coolest details about this glimpse behind the scenes is learning one of the ways they were able to carefully recreate Peter Cushing's face without having the actor from 1977 available for face-scanning or anything like that. It turns out that Industrial Light & Magic lucked out because there was a facial mold of Peter Cushing that was created for his turn in the 1984 film Top Secret!, and they were able to scan that for their own purposes.
While some have said that they weren't convinced by the digital recreation of Peter Cushing in the movie, the more friends I talk to who are general moviegoers, the more I learn that it's only eagle-eyed movie buffs who have been taken out of the movie by this visual effect. Having seen the movie twice, I will say there are some shots where it's not quite as convincing as others, but then you take a look at that close-up shot like this: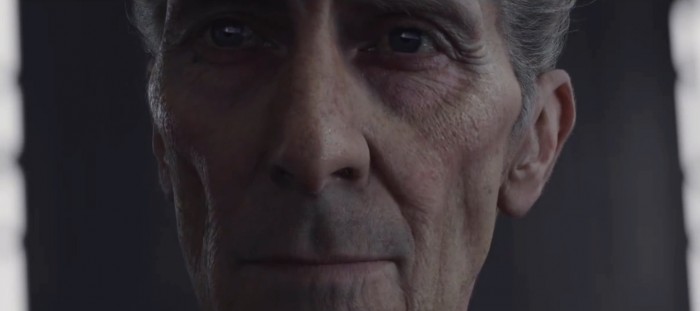 If I were shown that still without knowing it's a result of visual effects, I probably wouldn't be able to tell that it's not really Peter Cushing. Even if it's not always perfect in the movie, that's impressive as hell.
Here are two more shots of Grand Moff Tarkin from Rogue One:
And here are some more of the behind the scenes shots for you to peruse from the report above: