Star Wars Bits: Adam Driver On 'Episode 8,' More On Darth Maul's Comic, And The Meeting Of Two Han Solos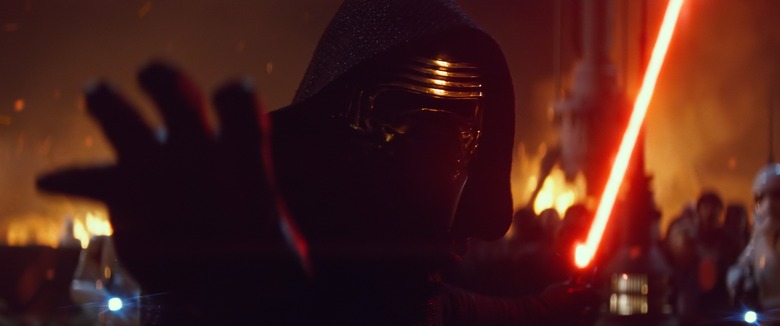 In this edition of Star Wars Bits:
Adam Driver talks about the humanity of Star Wars: Episode 8.
Harrison Ford and Alden Ehrenreich have officially met.
New details revealed about Marvel's Darth Maul miniseries.
A Star Wars regular will voice Obi-Wan Kenobi in Star Wars Rebels.
Lots of new Rogue One details revealed and discussed.
A very interesting Princess Leia petition...
How Diego Luna's son used Star Wars spoilers to woo girls.
ILM will receive a special Oscar for their Rogue One work.
And more!
Adam Driver has been making the press rounds for Silence, which means he's also been making the press rounds for Star Wars: Episode 8. Speaking with Larry King (via JoBlo), he was asked about what he's most excited for fans to see in the next movie:
I think, maybe this is such a general answer but you know, humanity. Even though it's very much a blockbuster movie, there was no taking that for granted and that we were forced to be general. There was a lot of plot points that we knew were operating in the first one that we get to explain more in the second one to make both of them make sense. But they do kind of feel socially active to me, and George Lucas originally — a lot of Star Wars was in response to Vietnam and a lot of what I remember talking about with JJ and Rian was this idea of terrorism, and two sides being morally justified to behave however they wanted to to get whatever they thought was absolutely correct.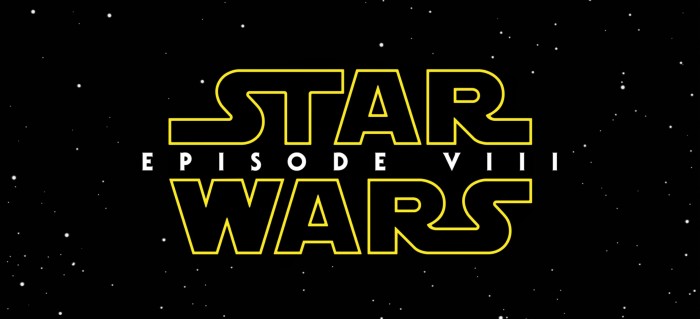 Speaking of Star Wars: Episode 8, Disney has released the official logo for Rian Johnson's upcoming sequel. It'll do until the actual title is announced.
Two Han Solos grabbing lunch. 🥂 pic.twitter.com/6utZicjcaZ

— Nico Sotomayor (@nicosotomayor00) January 4, 2017
When you're researching a film role, there is nothing quite as valuable as a firsthand source. So yeah, of course Alden Ehrenreich was going to meet up with Harrison Ford to chat about that Han Solo movie and of course someone was going to snap a picture.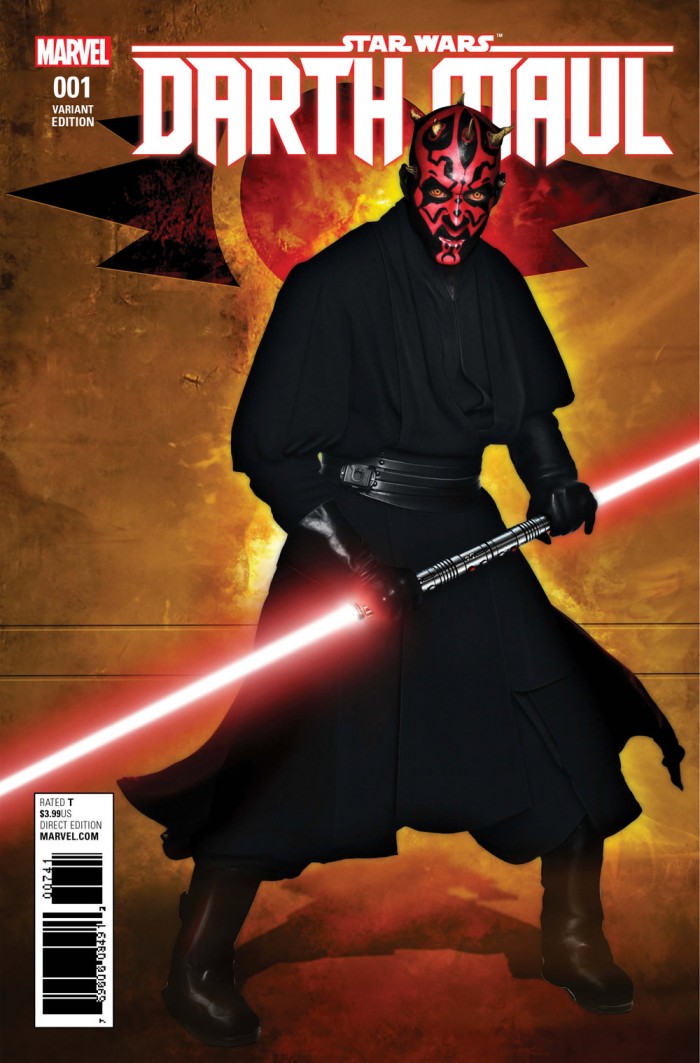 Darth Maul (or just Maul, depending on when you're catching up with him) has come a long way since his days as a one-note baddie in The Phantom Menace. He has since become one of the more interesting characters in the Star Wars canon, playing a key role on Star Wars Rebels. Now, his past will be explored in a new comic book miniseries by writer Cullen Bunn and artist Luke Ross, which is set before the time before Episode I. StarWars.com sat down with Bunn, who laid out what the new series will be about:
This series takes place shortly before the events of The Phantom Menace. We're following Darth Maul at a point when his anxiousness, his impatience, and his thirst for vengeance against the Jedi is at an all-time high.
He's growing frustrated. He's been taught to hate the Jedi. He's been trained to kill them. But his master, Darth Sidious, has told him to bide his time, to keep himself hidden. This is driving Maul crazy, so we see him venting his anger by testing his skills against some of the nastiest creatures and cutthroats in the galaxy. During one of his missions, though, he learns something of interest. A powerful crime lord has captured a Jedi Padawan, and only a few people know about it.
Maul sees this as an opportunity to test his mettle against those he hates, so he sets out to find this Jedi. He has to operate in secret, though, because his master would not approve.
More details can be found at the link above.
And before we drift too far away from Star Wars Rebels, ComicBook.com has learned that veteran voice actor Stephen Stanton will play Obi-Wan Kenobi when he returns to the series later this season. Stanton is a Star Wars veteran, having previously lent his voice to AP-5, Mas Amedda, the animated version of Grand Moff Tarkin, and plenty of other characters. He can currently be heard as the voice of Admiral Raddus in Rogue One.
As he tends to do, Pablo Hidalgo of the Lucasfilm Story Group took to Twitter to share trivia with his followers, going through the Rogue One visual guide book and sharing additional details. Of special note is X-Wing pilot Heff Tobber, who ended up becoming a full-fledged character after the assistant director posing for stills was recruited to actually appear in the movie.
For more Rogue One trivia, you just have to look to the latest episode of Star Wars Explained, which delves into the identities of the other Rebel soldiers and pilots who fought (and died) alongside our heroes at the Battle of Scarif.
One of the most pleasant surprises in Rogue One was the return of several pilots from the original 1977 Star Wars via previously unused b-roll footage filmed for the original Death Star Assault. So what does actor Angus MacInnes, who played Gold Leader Jon "Dutch" Vander 40 years ago, think about his unexpected return to the Star Wars universe? The video interview above will answer that question for you.
And while we're on the subject of original Star Wars characters being brought back to the big screen in 2016, this video from the Rogue One press day at ILM offers a candid look at how so many classic ships and vehicles were resurrected for the new film.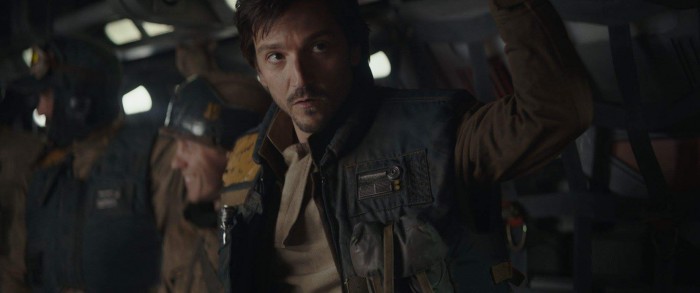 While Diego Luna himself towed the company line and didn't reveal anything about Rogue One until the time was right, the same could not be said for his eight-year-old son, who used Star Wars spoilers in an attempt to impress girls. As Luna recounted in a new interview with Yahoo:
It helped me to play a spy, because I had so much information, like my character, that I couldn't share. I'm the opposite. I always tell everything I'm doing. I want to share it and I want people to know the story I'm putting together. I did tell my kids. I told my son. They came to set, they spent the whole summer with me, the first two months of shooting. They would come to set, and promise not to tell anyone. You know what happened? We went once to the beach. I remember we were in the pool, I was with friends, my son was swimming and then I lost him. I go where is he, and I see these four 16-year-old girls, this guy is 8, and he's talking to them. This sounds a little fishy, so I start swimming and I just listen, 'Oh no, this film has no Jedi, it's just Rebels.' [...] But then, he did it for the right reason, right? He was talking to the girls and he got their attention, so I had to talk to him later and say 'you cannot tell people, until they see the trailer, that we are Rebels, you know? People today don't know we're rebels.' He said, 'OK, OK, I won't do that.' But then I wanted to say that was a good move, by the way. A very good move, and if you wait another eight years, you might be ready.
If you don't love Diego Luna by now, what's the hold-up? C'mon.
Congratulations to the crew on their upcoming Sci-Tech honor from @TheAcademy for the ILM Facial Performance-capture Solving System. pic.twitter.com/AdBnHlyJbQ

— ILMVFX (@ILMVFX) January 4, 2017
While the digital recreation of Peter Cushing's Grand Moff Tarkin has proven controversial amongst viewers, the undeniably impressive technology that made this effect possible has earned ILM a special honorary Oscar from the Academy of Motion Picture Arts and Sciences. So, congratulations to all involved!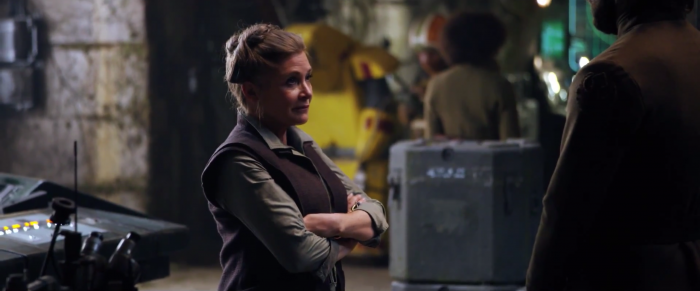 Star Wars fans have launched a petition asking the Walt Disney Company to set aside a few rules and make Leia Organa an official Disney princess:
After the tragic lose of Carrie Fisher, we feel that it is only fitting for Disney to do away with the rule that an official Disney princess must be animated and make Leia a full-fledged princess. This would be a wonderful way to remember Carrie and a welcoming to one of Disney's new properties that is beloved by millions.
What we are asking is that the Walt Disney Corporation hold a full ceremony inducting Leia as the newest Disney princess as well as a special service in memory of Carrie Fisher.
At the time of this writing, the petition has attracted over 36,000 signatures.
If it's the more practical Star Wars stuff that calls to you, you need to head over to Disneyland and pay a visit to the Star Wars Launch Bay exhibit, where a bunch of Rogue One's props and costumes are now on display.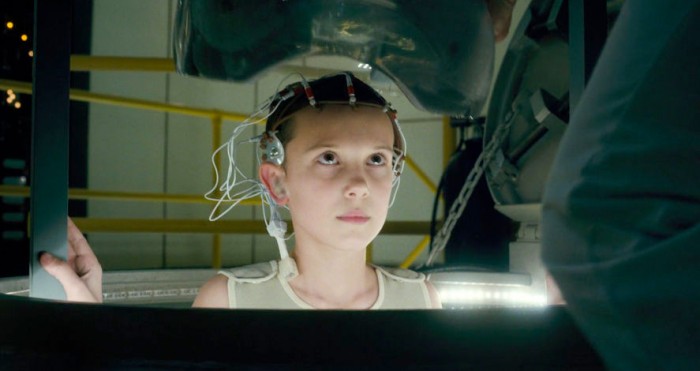 Yep, Stranger Things star Millie Bobby Brown still wants to play a young Princess Leia, telling a Rhode Island Comic-Con crowd:
Princess Leia. If they made – I think they are making another Star Wars – I would love a role like that. Because I want to do something far from Eleven or Madison [her character in BBC drama Intruders].
She certainly looks the part and there's certainly a story to be told about young Leia finding her voice as a young woman in a powerful political family, so sure! Why not?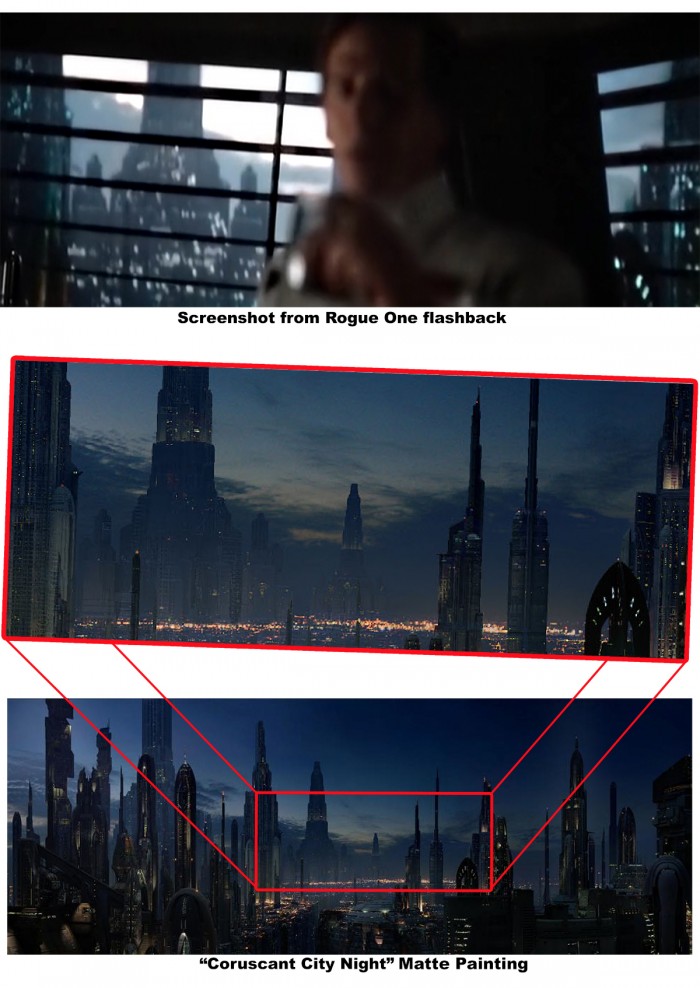 Here's an impressive feat of nerdery: Redditor iamwastedbutimready examined the flashback scene from Rogue One (where the Erso family and Orson Krennic are seen socializing in happier/more oblivious times), compared the glimpses of Coruscant seen outside he window to the sprawling city's skyline, and determined the approximate location of the Erso home before they fled the Death Star project.
Let's close out this edition of Star Wars Bits with a little bit of silliness: a video that discusses the "ultimate fan theory" that "fixes" all of Star Wars.