'Don't Knock Twice' Trailer: Katee Sackhoff Versus An Evil Witch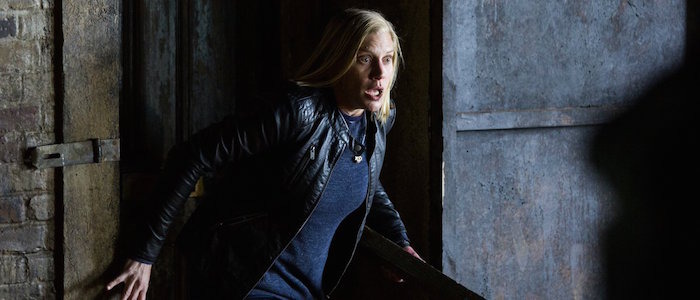 Follow me through this inter-dimensional gateway. Trust me. It'll only take a few minutes. Welcome to Universe 6418, one of infinite dimensions in the sprawling multiverse that makes up creation. No, no. We're not here to see who's in the White House. You don't want to know who's in there. We're just here to take a peek at the posters at the local movie theater. Yep, this is the universe where Armie Hammer became a massive movie star, where Diego Luna was a household name long before Star Wars, and where Katee Sackhoff parlayed the success of Battlestar Galactica into a Scarlett Johansson-esque career as an all-purpose cinematic badass.
Now let's go home, back to the universe where Sackhoff is doing perfectly fine, starring in TV's Longmire and lending her talents to occasional horror movies like Don't Knock Twice, which finds the former Starbuck facing off against a witch.
Silly science fiction ledes aside, I really like Sackhoff and quite like the idea of this being the universe where she develops a second life as a horror movie protagonist. She did strong work in 2013's Oculus, where she battled a demonic mirror, and now she gets to defend her estranged daughter from an evil witch in director Caradog W. James' new movie. I really don't have much to say about the trailer beyond "this looks just spooky and icky and creepy enough to warrant my attention."
The horror genre tends to operate in waves, with different monsters and concepts gaining traction for a few years before slowly receding into the background as a new trend takes over. Between Don't Knock Twice, The Witch, Blair Witch, The Blackcoat's Daughter, and another recent horror movie that would be spoiled if I wrote its name here, it certainly looks like we're on the cusp of a full-blown witch trend. And why not? Bring on the witch movies.
IFC Midnight will release Don't Knock Twice in theaters and on VOD on February 3, 2017. Here's the official synopsis:
"Knock once to wake her from her bed, twice to raise her from the dead..." So goes a disturbing urban legend involving an abandoned house supposedly inhabited by a vengeful, child-stealing witch. When troubled teen Chloe (Lucy Boynton) raps at the door one night, she has no idea the horror she's about to unleash. Fleeing to the country home of her estranged mother (Katee Sackhoff)—a recovering addict who's turned her life around to become a famous artist—Chloe must learn to trust the woman who gave her up years ago in order to stop the bloodthirsty, shape-shifting demon stalking them. This wild supernatural shocker delivers a barrage of nonstop jolts and searing nightmare images.