'The Lure' Trailer: You Know, Just Another Polish Period Piece Mermaid Murder Musical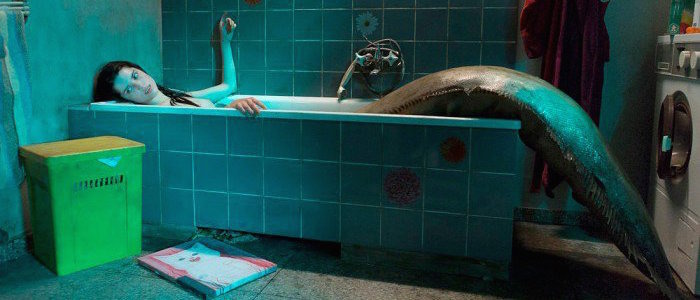 What's this? Another musical about bloodthirsty mermaids forming a pop band in 1980s Poland? Ugh. The film industry is entirely bereft of original ideas. Time to pack it all up.
But in all seriousness, the trailer for director Agnieszka Smoczynska's The Lure is here and this is the kind of thing every single adventurous movie fan should put on their radar. Even if the film's singular flavor doesn't quite work for you, it's the kind of experience you'll never really forget.
Bound to frustrate as many viewers as it enraptures, The Lure tells the story of two mermaids named Golden and Silver who encounter a rock band on the beach and decide to follow them back to the club where they perform and join the group. What happens next really can't be succinctly explained, but it involves catchy musical numbers, violent deaths, unexpected tragedy, and more than a few thinly veiled LGBTQ and immigration metaphors.
The NSFW trailer only hints at the bizarro nature of the entire movie.
Our own Ethan Anderton saw The Lure at the Sundance Film Festival almost a year ago and I caught it at Fantastic Fest a few months ago, writing at the time:
No one's going to dock The Lure any points for lack of originality. As far as I know, this is the world's only Polish mermaid musical, so it's a must-see for the novelty value alone. The logline should let you know if this movie should be on your radar: two mermaids join a human band. One of falls in love with the bass player while the other refuses to tone down her hunger for human flesh. Director Agnieszka Smoczynska does a fine job of blending the disparate elements together – this is a pop musical, a body horror movie, a creature feature, a tale of rock star excess, and a plot-free, lyrical journey powered more by images, ideas, and folklore than traditional storytelling. It's all so very interesting and all so very watchable (the songs are incredible), but it never feels like a cohesive whole. Still, I would never discourage anyone from seeking this movie out, as it is far too weird and far too unique to dismiss.
But I'll be honest and admit that the film has grown in my estimation since my initial viewing and that mixed capsule review. The Lure is a more challenging film than its bubbly, eccentric exterior suggests and I feel like I owe it another viewing. After all, the people who connected with The Lure really, really connected with it in ways that made me envious.
The Lure opens at the IFC Center in New York City on February 1, 2017 as part of a national rollout.