Everything Steven Soderbergh Watched And Read In 2016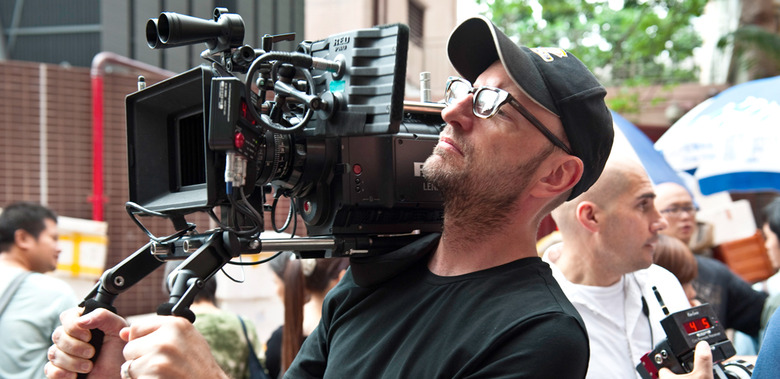 Steven Soderbergh hasn't been making as many movies or TV shows as he used to, but he's still keeping busy watching and reading everything he can get his hands on. It's become a tradition of the filmmaker to reveal everything that he watched and read the previous year, and his list from 2016 has been posted.
Keep in mind, Soderbergh watched and read all this stuff while working on his own comedy film Logan Lucky (which he watches more than a few times towards the end of the year). Soderbergh also got really into David Fincher this year by watching The Social Network, Panic Room, The Game, The Girl With The Dragon Tattoo, Fight Club, and Se7en. But perhaps the most exciting thing he got to see from Fincher is episodes of the director's Netflix series Mindhunters.
Find out everything Steven Soderbergh watched and read in 2016 below.
You'll notice in the list below that Soderbergh obsessively watches Dateline on NBC and the Olympics (followed by watching The Bronze). He also took the time to watch a few movies (other than his own Logan Lucky) multiple times, including All The President's Men three times, and A Touch of Evil twice and Apocalypse Now twice, not to mention Francis Ford Coppola's The Conversation and the first two chapters of The Godfather trilogy.
Soderbergh also loves his television, watching episodes of Better Call Saul, Billions, Transparent, Horace and Pete, The Americans, Girls, Silicon Valley, Veep, Master of None, Inside Amy Schumer, Black Mirror, Mr. Robot and more.
Here's the key to the full list from Soderbergh's
:
All caps, bold: MOVIE
All caps, bold, asterisk: SHORT*
All caps: TV SERIES
Italics: Book
Quotation marks: "Play"
Italics, quotation marks: "Short Story"
01/15 DATELINE
01/16 FREEDOM FOR THE WOLF, THE TRAIN ('65)
01/17 Beatlebone, Kevin Barry, LAST MAN HOME
01/18 MARJORIE PRIME
01/20 THE FACE OF ANOTHER, THE ELEPHANT MAN
01/22 THE SOCIAL NETWORK, DATELINE
01/23 Failure: Why Science Is So Successful, Stuart Firestein, US FIGURE SKATING CHAMPIONSHIPS (LADIES), 48 HRS MYSTERY
01/24 THE LAST AMERICAN HERO
01/26 SAN PIETRO, LET THERE BE LIGHT
01/27 BILLIONS
01/29 25 Women: Essays on Their Art, Dave Hickey, MAD MAX: FURY ROAD
01/30 HORACE AND PETE'S, DATELINE, ONE FLEW OVER THE CUCKOO'S NEST
01/31 AROUND THE WORLD IN EIGHTY DAYS ('56), IN COLD BLOOD, BILLIONS
02/01 DATELINE
02/03 MADOFF (Pt. 1)
02/04 MADOFF (Pt. 2), FIGHT CLUB
02/07 Black Box Thinking, Matthew Syed
02/08 BILLIONS, HORACE AND PETE
02/09 TRIUMPH ELECTION SPECIAL 2016
02/11 Giovanni's Room, James Baldwin
02/12 DATELINE
02/13 ABSENCE OF MALICE
02/14 BILLIONS
02/15 BETTER CALL SAUL
02/27 STAR WARS: THE FORCE AWAKENS, BETTER CALL SAUL, GIRLS, BILLIONS
02/28 THE 88TH ANNUAL ACADEMY AWARDS
03/05 PEE WEE'S BIG HOLIDAY
03/06 It's All Your Fault, Paul Rudnick
03/12 THE BROTHERS GRIMSBY
03/19 BETTER CALL SAUL, THE AMERICANS, 48 HRS MYSTERY, BILLIONS
03/20 BILLIONS (2), GIRLS (2)
03/21 GIRLS, BETTER CALL SAUL, VANITY FAIR CONFIDENTIAL
03/22 STEVE MCQUEEN: THE MAN & LE MANS
03/23 "Hamilton", Lin-Manuel Miranda, THE AMERICANS
03/24 48 HRS: HARD EVIDENCE, ALL THE PRESIDENT'S MEN, TOUCH OF EVIL
03/25 EVERYTHING IS COPY: NORA EPHRON, SCRIPTED AND UNSCRIPTED, HORACE AND PETE, THE BAD SLEEP WELL
03/26 THREE DAYS OF THE CONDOR, GRAND PRIX
03/27 The Lost Time Accidents, John Wray, Seven Brief Lessons in Physics, Carlo Rovelli, GIRLS, BILLIONS
03/28 BETTER CALL SAUL
03/31 THE AMERICANS
04/01 THE THOMAS CROWN AFFAIR ('68), DATELINE
04/03 THE MILL AND THE CROSS, BILLIONS, GIRLS
04/04 HAIL, CAESAR!
04/05 MILES AHEAD, BETTER CALL SAUL, IVAN'S CHILDHOOD
04/06 THE AMERICANS
04/07 HORACE AND PETE'S (2)
04/08 DATELINE, "Histoire Suele" video completed
04/09 PANIC ROOM
04/10 The Road to Little Dribbling, Bill Bryson
04/11 GIRLS, BILLIONS, BETTER CALL SAUL
04/13 THE AMERICANS
04/16 HORACE AND PETE (2), 48 HRS MYSTERY, LAST YEAR AT MARIENBAD
04/17 GIRLS (2)
04/19 BETTER CALL SAUL, The Little Red Chairs, Edna O'Brien, BETTER CALL SAUL
04/23 The Killing of Osama bin Laden, Seymour Hersh
04/24 SILICON VALLEY, VEEP
04/25 ALL ABOUT EVE
04/27 THE AMERICANS, SUTURE
04/29 INSIDE AMY SCHUMER (2), THE SECRET
04/31 "Dry Powder", Sarah Burgess
05/01 "Head of Passes", Tarell Alvin McCraney, SILICON VALLEY, VEEP
05/02 Throwing Rocks at the Google Bus, Douglas Rushkoff
05/03 BEYOND THE WALLS (2), DATELINE ON TLC
05/04 WILLIAM KENTRIDGE 2013*, THE AMERICANS
05/05 THE BIRTH OF A NATION
05/06 THE SECRET, INSIDE AMY SCHUMER, DATELINE
05/07 48 HRS MYSTERY, SIN CITY: A DAME TO KILL FOR
05/08 SILICON VALLEY, VEEP
05/10 VINYL (3)
05/11 My Struggle: Book Five, Karl Ove Gnausgaard, VINYL (3), THE AMERICANS
05/12 VINYL (4), Orson Welles: Hello Americans, Simon Callow
05/13 INSIDE AMY SCHUMER, THE SECRET, SEXY BEAST, TOUCH OF EVIL
05/14 DATELINE, Orson Welles: One Man Band, Simon Callow
05/15 SILICON VALLEY, VEEP
05/16 THE IPCRESS FILE, MASTER OF NONE (2)
05/18 THE AMERICANS
05/19 INSIDE AMY SCHUMER, THE TRIAL ('63)
05/20 DATELINE
05/21 HEAT
05/22 SILICON VALLEY, VEEP
05/23 THE HOT ROCK, HORACE AND PETE
05/25 HORACE AND PETE, MATANGO, THE AMERICANS
05/26 HORACE AND PETE, LE MANS, INSIDE MAY SCHUMER
05/27 DATELINE, THE GIRL WITH THE DRAGON TATTOO
05/29 2nd Unit photography on LOGAN LUCKY, SILICON VALLEY
05/30 The Magic Christian, Terry Southern, VEEP
05/31 MASTER OF NONE (2)
06/01 THE AMERICANS
06/04 DATELINE: SATURDAY NIGHT MYSTERY, INSIDE AMY SCHUMER, APPROACHING THE UNKNOWN
06/05 AMERICAN VISA, SILICON VALLEY, VEEP
06/06 Stanley Kubrick and Me, Emilio D'Alessandro with Fillipo Ulivieri, "Two Men Arrive In A Village", Zadie Smith, "The Polish Rider", Ben Lerner, "Seven People Dancing", Langston Hughes, "Maybe It Was The Distance", Jonathan Safran Foer
06/09 ZONA SUR
06/10 DATELINE, DATELINE ON OWN
06/11 INSIDE AMY SCHUMER, THE AMERICANS, O.J.: MADE IN AMERICA
06/12 SILICON VALLEY, VEEP
06/14 O.J.: MADE IN AMERICA (2)
06/15 OJ: MADE IN AMERICA
06/16 FUNERAL IN BERLIN, "Hadestown", Anais Mitchell, OJ: MADE IN AMERICA
06/17 INSIDE AMY SCHUMER, 10 CLOVERFIELD LANE
06/18 SEVEN
06/19 The View From the Cheap Seats, Neil Gaiman, SILICON VALLEY, VEEP
06/20 FASTBALL
06/21 APOCALYPSE NOW
06/23 THE GAME
06/25 MIDNIGHT SPECIAL
06/27 KLUTE
06/28 CLOSE ENCOUNTERS OF THE THIRD KIND
06/30 Room Service, Frank Moorhouse, "A Voice in the Night", William Hope Hodgson
07/01 DATELINE
07/02 DECEIT AT FIRST SIGHT
07/05 THE KETTERING INCIDENT
07/07 "Warhol Capote Strange Dents", Rob Roth
07/08 MINDHUNTER (2), CHILDREN OF MEN
07/09 GUIDED BY VOICES @ SOUTH STREET SEAPORT, CAPRICORN ONE
07/10 MR. ROBOT
07/12 JUGGERNAUT
07/13 MR. ROBOT, BAD DAY AT BLACK ROCK
07/15 ZERO DAYS
07/16 ID: TOMMY ZIEGLER, GREEN ROOM, THE PAPER CHASE
07/17 ALL THE PRESIDENT'S MEN
07/21 SINGANI 63 @ TALES OF THE COCKTAIL
07/24 Zero K, Don Delillo, MR. ROBOT
07/30 MR. ROBOT, THE THIRD MAN
07/31 The Portable Veblen, Elizabeth McKenzie, Hamilton, Lin-Manuel Miranda, Jeremy McCarter
08/03 MR. ROBOT, WHAT'S UP, DOC?
08/04 THE PARALLAX VIEW
08/05 20/20, OPENING CEREMONY 2016 OLYMPIC GAMES
08/06 2016 OLYMPIC GAMES
08/07 2016 OLYMPIC GAMES, 1983 JAPANESE DOCUMENTARY ON STEVEN SPIELBERG
08/08 2016 OLYMPIC GAMES
08/09 2016 OLYMPIC GAMES
08/10 2016 OLYMPIC GAMES
08/11 2016 OLYMPIC GAMES
08/12 TRIUMPH SUMMER ELECTION SPECIAL, 2016 OLYMPIC GAMES
08/13 2016 OLYMPIC GAMES
08/14 The Art of Fielding, Chad Harbach, 2016 OLYMPIC GAMES
08/15 2016 OLYMPIC GAMES
08/16 2016 OLYMPIC GAMES
08/17 2016 OLYMPIC GAMES
08/18 2016 OLYMPIC GAMES
08/19 2016 OLYMPIC GAMES, THE DISCOVERY
08/20 2016 OLYMPIC GAMES, MONEY MONSTER
08/23 THE BRONZE
08/24 Begin principal photography on LOGAN LUCKY
09/02 HOLY HELL, DOWNHILL RACER
09/03 A BIGGER SPLASH
09/05 THE COMEDY CENTRAL ROAST OF ROB LOWE
09/09 MINDHUNTER (2)
09/10 The Pigeon Tunnel, John LeCarre
09/19 THE 68TH ANNUAL EMMY AWARDS
09/23 DATELINE
09/24 WAKOLDA: THE GERMAN DOCTOR
10/01 MATANGO, FLEABAG
10/02 WESTWORLD
10/08 DATELINE EXTRA
10/12 LOGAN LUCKY
10/14 Heroes of the Frontier, Dave Eggers, FLEABAG
10/17 LOGAN LUCKY, FLEABAG (2)
10/18 The Sellout, Paul Beatty, Crunch Time, Rick Peterson and Judd Hoekstra
10/20 MOONLIGHT
10/21 BLACK MIRROR (3)
10/22 BLACK MIRROR (2)
10/23 "The Encounter", Simon McBurney, BLACK MIRROR, LOGAN LUCKY
10/25 A Gambler's Anatomy, Jonathan Lethem
10/27 FLEABAG (2)
10/28 MR. ROBOT, TRACEY ULLMAN'S SHOW, LOGAN LUCKY
10/29 Sapiens: A Brief History of Humankind, Yuval Noah Harari
10/30 "Plenty", David Hare
10/31 ALIEN
11/03 MR. ROBOT
11/05 TRACEY ULLMAN'S SHOW, TICKLED
11/08 Butcher's Crossing, John Williams
11/09 HITCHCOCK/TRUFFAUT
11/11 LOGAN LUCKY
11/12 TRACEY ULLMAN'S SHOW, THE LION IN YOUR LIVING ROOM
11/13 MINDHUNTER (2), LOGAN LUCKY
11/14 GOLD
11/15 MINDHUNTER (2)
11/17 PRESUMED INNOCENT
11/18 EQUITY, DATELINE
11/19 TRANSPARENT(2), 48 HRS. LIVED TO TELL, MR. ROBOT, KOVALEV VS. WARD
11/20 BODY HEAT
11/21 SOUR GRAPES ('16)
11/22 MANCHESTER BY THE SEA
11/23 TRANSPARENT, SWEET SMELL OF SUCCESS
11/24 Homo Deus: A Brief History of Tomorrow, Yuval Noah Harari, AGATHA
11/25 American Heiress, Jeffrey Toobin, TRANSPARENT, THE HUNT FOR RED OCTOBER
11/26 TRACEY ULLMAN'S SHOW, MR. ROBOT
12/02 MAGNUS, 20/20, DATELINE
12/03 TRANSPARENT (2), MALICE, 48 HRS
12/04 PARTICLE FEVER
12/05 LOGAN LUCKY (2), TRANSPARENT (3), TRACEY ULLMAN'S SHOW
12/06 LOGAN LUCKY
12/07 Dear Mr. M, Herman Koch, ELLE, REGGIE WATTS SPATIAL
12/09 TOM PAPA: HUMAN MULE, DATELINE
12/10 The Undoing Project, Michael Lewis, ARRIVAL, ZABRISKIE POINT
12/11 MR. ROBOT (2)
12/13 THE FOUNDER
12/14 FENCES
12/15 CATNIP: EGRESS TO OBILIVION, JULIETA
12/16 DATELINE, ALL ABOUT EVE
12/17 EX MACHINA
12/18 "Othello", William Shakespeare, The Mothers, Brit Bennet
12/19 I, DANIEL BLAKE, SORCERER
12/20 THE VERDICT, ALL THE PRESIDENT'S MEN
12/21 A SERIOUS MAN
12/22 THE CONVERSATION
12/23 Swing Time, Zadie Smith, ROOM AT THE TOP, THE THICK OF IT
12/24 THE GODFATHER, THE THICK OF IT (2)
12/25 ROGUE ONE: A STAR WARS STORY, THE GODFATHER PART II
12/26 A SALESMAN, APOCALYPSE NOW
12/27 Secondhand Time, Svetlana Alexievich, THE THICK OF IT (4)
12/28 COME AND SEE, ATLANTA (2), M Train, Patti Smith
12/29 BATTLES WITHOUT HONOR AND HUMANITY
12/30 Back, Henry Green, JAWS, THX 1138 ('71 version)
12/31 "The Mousetrap", Agatha Christie, GOSFORD PARK
And here's the vinyl Soderbergh listened to this year too:
VINYL
AURAL SCULPTURE  The Stranglers
THE KNACK (SOUNDTRACK)  John Barry
SKETCHES OF SPAIN  Miles Davis
MAGICAL MYSTERY TOUR  The Beatles
PAST MASTERS VOL. 1  The Beatles
NO PUSSYFOOTING  Eno and Fripp
BULLITT (SOUNDTRACK)  Lalo Schifrin
DEATH IN VENICE (SOUNDTRACK)  Gustav Mahler
ALL STARS  Miles Davis
TOUCH OF EVIL (SOUNDTRACK)  Henry Mancini