Terrence Malick's Latest Reveals New Title And First Look Photo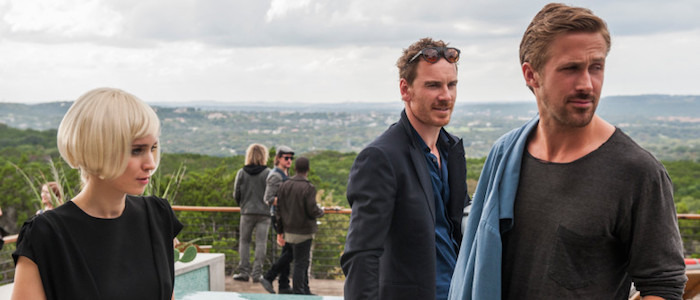 Here's the thing about Terrence Malick: he does what he wants and really doesn't feel the need to follow typical Hollywood norms. He'll cut major movie stars out of his movies or reduce them to cameos. He'll chop plot out of his stories to serve a greater emotional or thematic need. He'll delay one of his movies just long enough that its presence on a most anticipated movies of 2016 list looks far too hopeful. Naturally, the results are always fascinating and thoughtful, if sometimes frustrating. There is no one like Malick.
And now, the next film from the enigmatic director of The Tree of Life has a new title and has released a new photograph showing off stars Ryan Gosling, Rooney Mara, and Michael Fassbender.
The good folks over at IndieWire revealed the news: the film that was once called Weightless is now called Song to Song and here's a still from the film to prove that it actually exists. Not pictured: Natalie Portman, who rounds out the film's exceptional cast.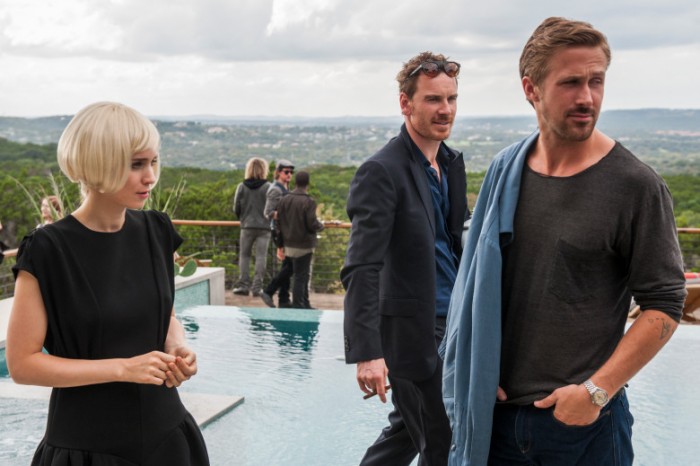 The official plot description sounds fairly straightforward, but considering Malick's filmmaking style, this will probably be just the skeleton upon which he hangs philosophical musings, beautiful images, and scenes where characters grapple with concepts bigger and more mysterious than themselves:
In this modern love story set against the Austin, Texas music scene, two entangled couples — struggling songwriters Faye (Rooney Mara) and BV (Ryan Gosling), and music mogul Cook (Michael Fassbender) and the waitress whom he ensnares (Natalie Portman) — chase success through a rock 'n' roll landscape of seduction and betrayal.
IndieWire also reports that a number of musicians and bands will appear in the film as well, including Patti Smith, Lykke Li, the Black Lips, Iggy Pop, Florence and the Machine, and the Red Hot Chili Peppers.
The famously reclusive Malick, who only made five films between 1973 and 2011 (Badlands, Days of Heaven, The Thin Red Line, The New World, and The Tree of Life), has suddenly decided to get prolific in the past few years. To the Wonder, Knight of Cups, and two versions of Voyage of Time have all arrived in rapid succession, and each of them has done a fine job of dividing film fans. I run hot and cold on his later work, but a new Malick movie remains appointment viewing. The man is a legitimate fine artist with the uncanny ability to attract major movie stars to appear in his sometimes opaque, always challenging movies. No one makes movies quite like him.
It's not clear when we'll get the chance to see Song to Song, but you can expect it to make a festival debut at some point this year.