'Fifty Shades Darker' Trailer: Love In An Elevator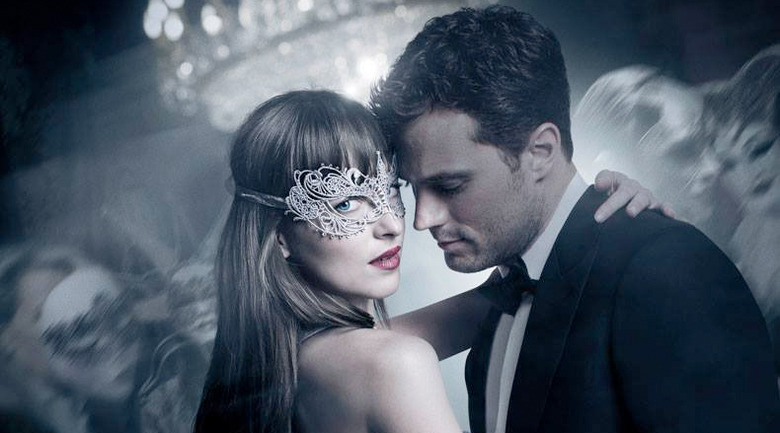 Sequels to romances are few and far between, but Fifty Shades of Grey isn't your average romance. Based on E.L. James' erotic thriller of the same name, the film adaptation was a box office sensation pulling in over $571 million on a budget of just $41 million. However, the sequel Fifty Shades Darker isn't just a result of the big box office, because there was a whole trilogy of books before the first movie even got off the ground.
Now a new Fifty Shades Darker trailer has arrived, playing to its prime target audience during the premiere of The Bachelor last night. The new trailer shows the next chapter of the romance between Christian Grey (Jamie Dornan) and Ana Steele (Dakota Johnson), and it appears things are not only going to get kinky again, but also deadly.
Watch the Fifty Shades Darker trailer after the jump.
While Christian Grey has decided to open himself up to Ms. Steele in an effort to win her back, their developing relationship gets interrupted when a former lover of Mr. Grey returns in a very stalker-ish capacity, even going so far as to threaten the two with a gun. It's all underscored by a haunting but sexy tune created by Zayn and Taylor Swift.
Fans of the franchise won't really get what they want out of Fifty Shades Darker since a trailer that plays on broadcast television can only show so much. But if you like to see a series of sequences where Dakota Johnson writhes in pleasure when touched by Jamie Dornan, presumably in her bathing suit area, then this trailer will get the job done.
In addition to the return of Dornan and Johnson in the leads, other returning cast members include Marcia Gay Harden, Jennifer Ehle, Victor Rasuk, Luke Grimes, Rita Ora, Eloise Mumford and Max Martini. They're joined by franchise newcomers Kim Basinger, Bella Heathcote and Eric Johnson, along with director James Foley sitting behind the camera instead of Sam Taylor-Johnson.
When a wounded Christian Grey tries to entice a cautious Ana Steele back into his life, she demands a new arrangement before she will give him another chance. As the two begin to build trust and find stability, shadowy figures from Christian's past start to circle the couple, determined to destroy their hopes for a future together.
Fifty Shades of Darker arrives on February 10, 2017, just in time for a sexy Valentine's Day date.