See How 'Stranger Things' Brought The Haunting Demogorgon To Life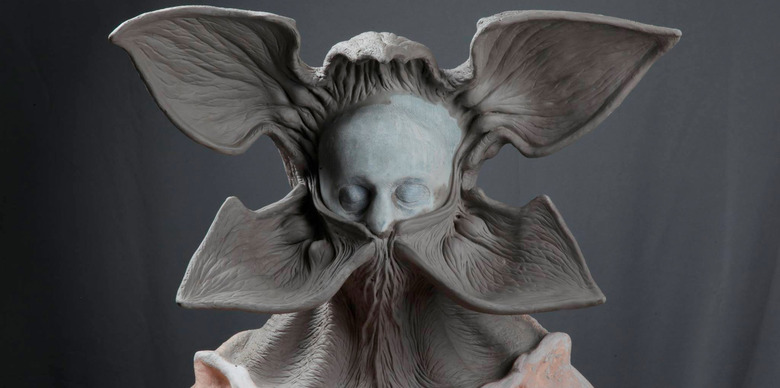 Now that it's 2017, new episodes of Stranger Things feel much closer. The first season debuted last summer, and fans are expecting the second season to arrive on Netflix around the same time this year, though no official release date has been set just yet. In the meantime, how about we take a closer look at how the signature monster known as the Demogorgon was brought to life for the show?
Mark Steger helped brig the Demogorgon to life by being the man standing on stilts inside of a creature suit, and now some new behind the scenes photos and a video reveals the body suit and mechanical head that will haunt your nightmares, even when it's not creeping in the dark.
See how the Stranger Things monster effects came together after the jump.
The visual effects house Spectral Motion posted this video of the Demogorgon's mechanical head:
That's pretty terrifying by itself, and it sat on top of the head of Mark Steger when he suited up as the monster on the set of Stranger Things. Spectral Motion also posted these photos on their Facebook page:
Back when Stranger Things was all the rage online, Steger explained to Variety what it was like to become the Demogorgon:
"It was the most complex creature suit I've ever worked in. Being inside the suit changes your biometrics, how you see, how you hear. You have limbs in places you normally don't. My vision was somewhat compromised, and my hearing was obscured by a motor in the headpiece."
The Demogorgon wasn't always played by Mark Steger since there were instances when visual effects needed to be employed because of the limited movement of the practical body suit and head gear, but it's great to see that they took the time to make a practical effect in order to stay true to the 1980s spirit of the show.