Sony's Animated 'Spider-Man' Movie Confirmed To Star Miles Morales, Will Arrive On December 21, 2018 [UPDATED]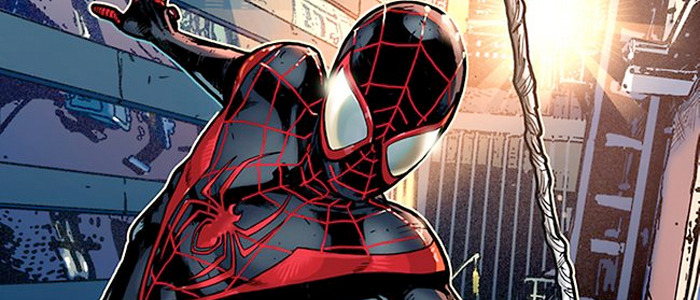 UPDATE: Sony has officially announced a release date for their animated Spider-Man movie, along with another director and confirmation that Miles Morales will be the main character. You can find the details below.
Even though Sony Pictures appears to have Spider-Man back on track thanks to their collaboration with Marvel Studios to bring the webslinger into the Marvel Cinematic Universe, the studio is still working on a completely different version of the wallcrawler.
An animated Spider-Man movie was first announced at CinemaCon back in April of 2015 with The LEGO Movie directors Phil Lord & Chris Miller producing alongside Avi Arad and Amy Pascal. The movie was originally slated for a release in the summer of 2018, but has since been pushed back to Christmas. However, we still haven't heard how this animated Spider-Man movie will be different from the new live-action Spider-Man franchise, other than breaking new visual ground.
That changes today if a new casting call is to be believed, as it indicates that we might finally see a version of Spider-Man that fans have been clamoring for since The Amazing Spider-Man was in development a few years ago.
UPDATE: Sony has officially announced that the animated Spider-Man movie will hit theaters on December 21, 2018 and that it will be directed by Bob Persichetti and Peter Ramsey.
Experience the upcoming stand-alone animated SPIDER-MAN feature, directed by Bob Persichetti and Peter Ramsey, in theaters 12/21/18. 🕷️

— Sony Pictures (@SonyPictures) January 18, 2017
As previously rumored, the film will follow Miles Morales, the popular character originally introduced in the pages of the Ultimate Spider-Man comics, rather than Peter Parker.
.@PhilipLord and @ChrizMillr are bringing the Miles Morales story to the big screen in all-new animated stand-alone SPIDER-MAN feature.

— Sony Pictures (@SonyPictures) January 18, 2017
The original article continues below.
***
ComicBookMovie.com noticed a casting call at Backstage.com (which has since been removed) for a movie at Sony Pictures Animation called Cabin Fever. Though the movie is descrbed as "the adventures of two unlikely friends, Terrence and Pete," it is believed that this is the cover for the animated Spider-Man movie. After all, we haven't heard anything about a movie called Cabin Fever at Sony Animation, so this cover makes sense.
This suspicion seems to be further confirmed when you look at the characters details for the roles of "Terrence" and "Pete" in the casting call for talent. Terrence is described as "a young African-American/Puerto Rican teen from Brooklyn; he is new to this suburban school and now feeling out of place, overwhelmed, pressured with new responsibilities, and dealing with puberty; while trying to fit in he must do his best to stay out of trouble; along the way in developing his identity he's losing old friends but now making a new one, Pete."
Hey, Marvel Comics character Miles Morales is a young African-American/Puerto Rican teen from Brooklyn who just so happens to become a new Spider-Man. That's a weird coincidence, right? Even the vague character details such as "pressured with new responsibilities" hint at his new super powers. The part of "staying out of trouble" and "developing his identity" is a good indicator too since Morales struggles with whether or not he's a good person at his core, thanks to the presence of criminal livelihood that runs in his family, thanks to his father and uncle, the former of which has renounced his criminal ways while the latter still commits crimes under the alias of The Prowler.
But what about Pete? Well, Pete is described as "a young, slighgtly geeky, Asian-American teen; he's smart, sweet, and encouraging; although very unlike any of the friends Terrence had in his old Brooklyn neighborhood, Pete proves to be a good fit for Terrence making good decisions."
That sounds like the character could be Ganke. The only rub in that assumption could be that Ganke is Korean-American, and there has been some occasional debate regarding references to Korean-Americans being Asian-American, despite the fact that both North Korean and South Korean are part of Asia. Regardless, that character description sounds like it could be Ganke.
Keep in mind that this is all just speculation and conjecture for now, but it sounds like Sony is starting to round up a cast for their animated Spider-Man movie and Miles Morales will be the lead, confirming rumors we heard this past May. They already have a director in the form of Bob Persichetti, who has worked on Disney movies like Hercules, Mulan and Tarzan, as well as DreamWorks Animation movies like Shrek 2 and Monsters vs Aliens, so casting would be the next step. Stay tuned to see how this one develops.