HBO Releasing 'Bright Lights: Starring Carrie Fisher And Debbie Reynolds' Documentary Earlier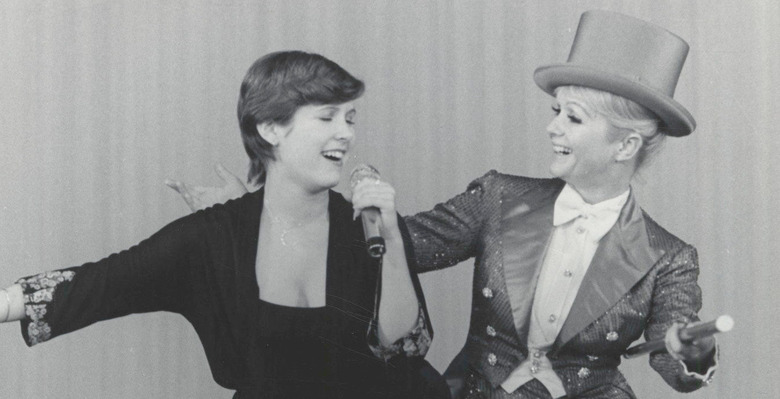 Following the tragic passing of both Carrie Fisher and her mother Debbie Reynolds, HBO is bumping up the release of the documentary about the show business family.
Bright Lights: Starring Carrie Fisher and Debbie Reynolds follows the bond between the mother and daughter during their relationship that lasted for 60 years. It was originally slated for a release in March, but now those mourning the loss of these two Hollywood treasures will be able to watch in January. Find out more about the Carrie Fisher and Debbie Reynolds documentary after the jump.Variety has learned that HBO will release Bright Lights on Saturday, January 7, at 8pm Eastern time, after it screened at the New York Film Festival and Cannes back in May. It's directed by Fisher Stevens (Before the Flood) and Alexis Bloom (producer of We Steal Secrets: The Story of WikiLeaks), who had this to say about Fisher and Reynolds:
[They] were supremely kind human beings, and unusually perceptive. And when either one entered a room, the energy changed. Quite simply, we were iron filings to their magnets. And never more so than when they were together. These women were more than mother and daughter, they were an expression of exquisite humanity in all its travail and triumph. They lived their days boldly. They sung every song worth singing (often together.) Carrie and Debbie loved each other profoundly. We are devastated they're gone. And so very fortunate to have known them at all.
Bright Lights was primarily shot over a year ago, and it follows the bond between Fisher and Reynolds, both professionally and personally, through the good and the bad times. Knowing how candid both Fisher and Reynolds were in their various television appearances, I can only imagine how intimate of a film this will be.
Some might think it's a bit tactless to bump something like this up in the wake of the death of these two women, but plenty of fans have been soaking up all they can about the two women since their passing, so this feels like more of a tribute than anything. Speaking with Variety, HBO Documentary Films president Sheila Nevins said, "It's life with Carrie and Debbie. It's about both of them trying to stand upright, both having their frailties — age on the one hand and mental illness on the other. It's a love story about a mother and daughter — they happen to be Carrie and Debbie. Carrie wanted to make Bright Lights for Debbie and Debbie wanted to make it for Carrie." That sounds like all we need to know.
In addition, HBO will be re-airing Carrie Fisher's one-woman show, Wishful Drinking. Here's the trailer:
If you missed it the first time around, the adaptation of Fisher's show features her own stories from the stage as well as interviews, archival footage and more, providing insight into her wild life in Hollywood, complete with Fisher's signature charm and comedy. Fisher was even working on a sequel just before she passed away, and it's truly sad that we'll never get to see it.
Wishful Drinking will air again at 9pm Eastern time on January 1st, only on HBO.