Star Wars Bits: Oscar Isaac's Carrie Fisher Tribute, New Easter Eggs, And A Potential 'Rogue One' Blu-Ray And DVD Release Date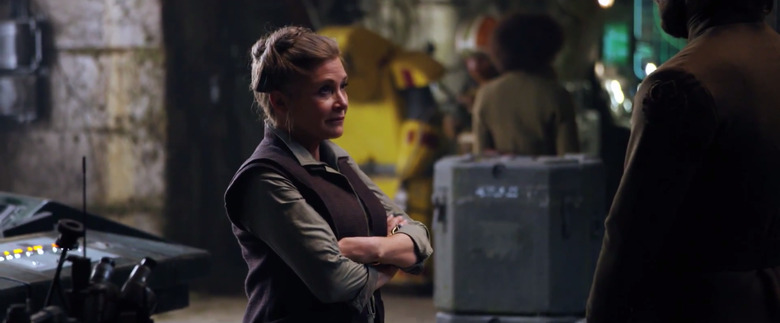 In this edition of Star Wars Bits:
Oscar Isaac's tribute to Carrie Fisher contains a Star Wars: Episode 8 surprise.
We may know when Rogue One: A Star Wars Story is hitting Blu-ray and DVD.
Ben Mendelsohn discusses the many different versions of Rogue One on the cutting room floor.
Actor Spencer Wilding talks about playing Darth Vader.
Star Wars Celebration announces new events and guests.
Is Lucasfilm staffing up for a new Star Wars animated show?
The Rogue One easter egg that provides another connection to Star Wars Rebels.
Every new vehicle and ship in Rogue One, explained.
The first thing you'll notice in Oscar Isaac's Facebook tribute to the late, great Carrie Fisher is that reading the brief message is enough to shoot a little dust into your eyes. The second thing you'll notice is that this picture comes from the set of Star Wars: Episode 8 and both Mark Hamill and Fisher are wearing their new costumes from the film, which haven't been officially revealed elsewhere.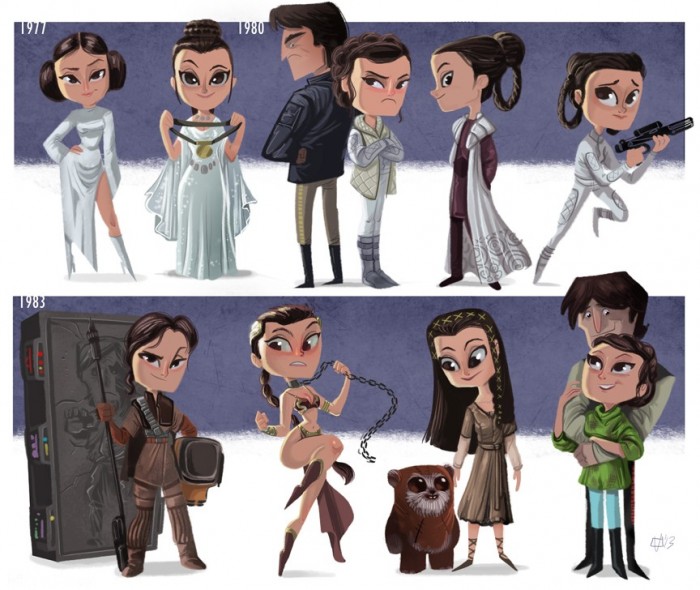 And while we're sharing Carrie Fisher tributes, this piece by artist Jeff Victor has been making the rounds again and it's worth taking in.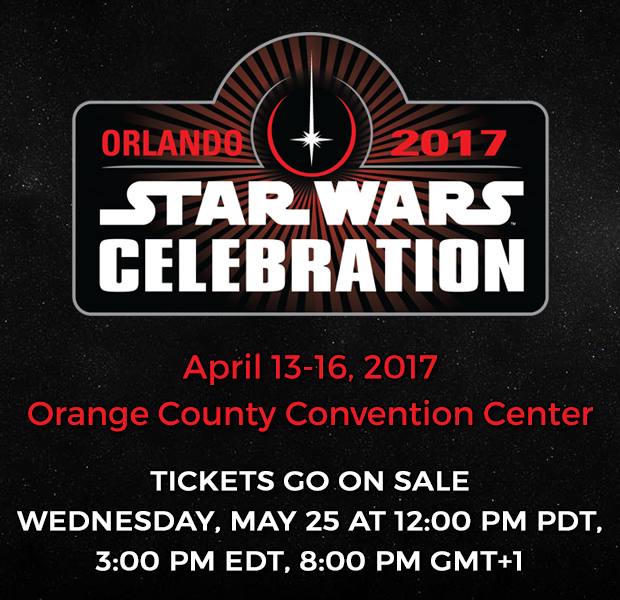 Star Wars Celebration has revealed that Doug Chiang, Lucasfilm Vice President and Executive Creative Executive and concept artist on the prequel trilogy, The Force Awakens, and Rogue One, will be one of the convention's guests at the 2017 edition in Orlando, Florida. They also announced the return of the Tattoo Pavilion, where fans can can inked by professional artists:
At the Star Wars Tattoo pavilion at Celebration Orlando, some of the best tattoo artists in the world will perform their craft live at the show, all weekend long. Sign up in advance for an appointment with the artists, or stop by the pavilion to book your time for the ultimate Star Wars souvenir! Whether you already have a Star Wars tattoo, or get a new one at the show, you can sign up for the Star Wars Celebration Tattoo Competition.
Interested parties are being encouraged to book an appointment ahead of time to guarantee an appointment.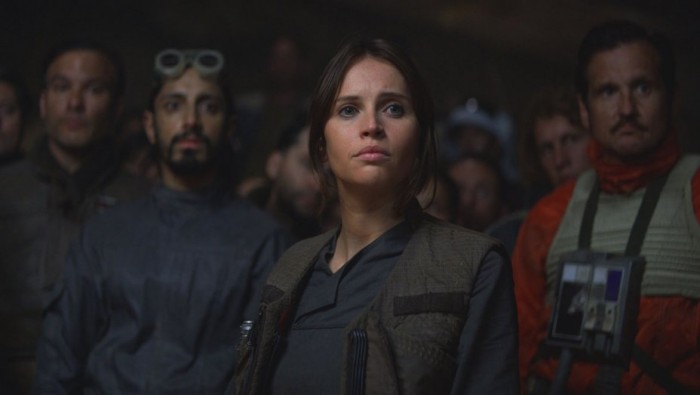 Rogue One is still in theaters and still going strong, but that hasn't stopped some internet sleuths from trying to determine when the film will arrive on Blu-ray and DVD. Rebelscum.com has discovered that the film is currently available for pre-order from the Australian site EZY DVD, with a release date of April 28, 2017. If that's accurate (it seems like the proper window in this day and age), that's almost certainly the international release date. However, it's also a Friday, which is an unusual, but unheard of, day of the week to drop a new release. So take all of this with the necessary grain of salt.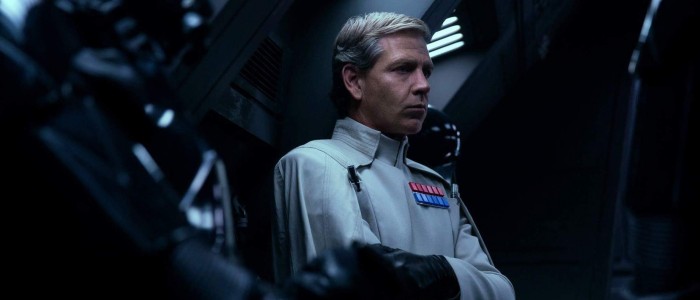 Collider spoke with Rogue One star Ben Mendelsohn, who talked about how Gareth Edwards' shooting style gave the filmmakers a variety of different options in the editing room:
Yep, absolutely, very much. We did have multiple, multiple ways of going at any given scenario, we had multiple readings of it. So should they ever decided to, there would be a wealth of ways of approaching these different things. And I know from having seen sort of the crucial kind of scenes throughout it, I know there's vastly different readings of at least four of those scenes.
Between that and the reshoots, Mendelsohn says there are several "enormously different" version of the movie lurking in the collective footage:
Absolutely, with enormous differences within I would've said 20 or 30 of the scenes. [...] There really would be. There would be enormously different renderings.
The Star Wars series has been notoriously stingy about releasing deleted and alternate scenes over the years, but hopefully, one day, we'll be able to see this extra footage and discover what kind of movie Rogue One could have been in an alternate timeline.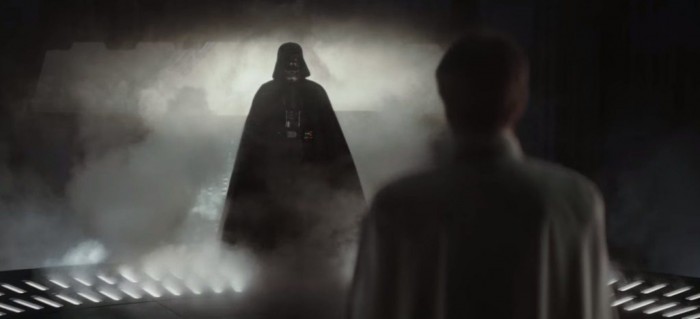 Actor Spencer Wilding didn't offer too much insight into the filmmaking process when he was asked about playing Darth Vader in Rogue One (alongside fellow actor Daniel Naprous), but he did express his enthusiasm for the role and spoke about having a trainer help him nail the character's specific movements:
This character has got so much presence – it's unbelievable. I'm just one small element of Star Wars. It's a massive production, and it takes a lot to bring the magic of that film. It's just awesome. We studied the movements of Darth Vader. We had a trainer who got it bang on. We wanted to keep it 'Darth Vader!' It's every actor's dream. I'm still pinching myself!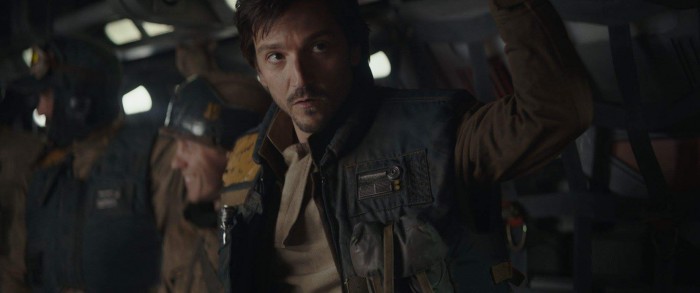 There are a number of references to the larger Star Wars universe littered throughout Rogue One, but the most surprising of them tend to link the film to the animated television shows. The character of Saw Gerrera originated on Star Wars: The Clone Wars (and will soon appear on Star Wars Rebels) and the Ghost, the ship that the cast of Star Wars Rebels calls home, was present at the Battle of Scarif. However, you'll have to turn to Pablo Hidalgo's Star Wars: Rogue One: The Ultimate Visual Guide (via ScreenCrush) to note another connection. According to the book, one of Cassian Andor's aliases as an agent for the Rebel Alliance was "Fulcrum," a top secret codename used for Rebel spies that was originally given to Ahsoka Tano, Anakin Skywalker's former padawan.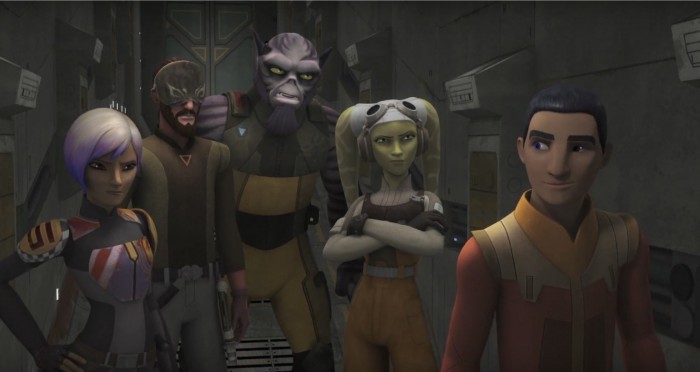 Comicbook.com has noted an intriguing job listing on on the Lucasfilm recruiting website, where the company is looking for a storyboard artist on an "episodic TV series." Here are the relevant details:
Works closely with the Supervising Director and Episodic Directors to create expressive and entertaining storyboards for an Episodic TV series. The Storyboard Artist conveys story from script through visual storytelling techniques in a 3d environment.
Now, this could very easily be a job listing for Star Wars Rebels, which is still going strong. However, the fact that they don't mention that series by name has some people wondering if this is a clue that another animated show is in the works. So take from this what you will...and then start pondering which era of the Star Wars timeline demands a full TV series. I'd like to see something post-Return of the Jedi, myself.
And while you ponder that, you can watch the latest episode of Star Wars Explained, which discusses all of the new ships and vehicles that appear in Rogue One.