Ryan Gosling Will Play Neil Armstrong For 'La La Land' Director Damien Chazelle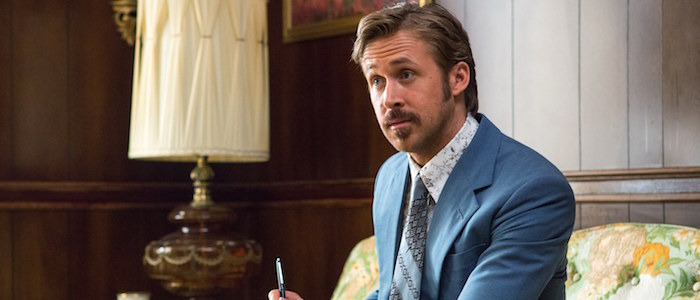 Every year is a good year for Ryan Gosling as long as he continues to look like Ryan Gosling, but 2016 was an especially good year to be Ryan Gosling. He's probably going to snag his second Oscar nomination for his moving work in La La Land, he turned in one of the year's best comedic performances in The Nice Guys, and he just finished filming a Blade Runner sequel with Denis Villeneuve. And now, he's looking to cap this year off by officially joining a very promising project: First Man, which will see him playing Neil Armstrong, the first human being to set foot on the moon.
La La Land and Whiplash director Damien Chazelle has been attached to direct First Man for over two years now (it was a Clint Eastwood project at one point) and the first rumblings of Gosling's involvement arrived a little over a year ago. But it seems like Gosling and Chazelle must have hit if off while making their acclaimed (and genuinely great) musical, because The Hollywood Reporter says everyone has officially signed on the dotted line.
Based on the book First Man: A Life of Neil A. Armstrong by James Hansen, First Man will chronicle NASA's attempt to land astronauts on the moon and how a former test pilot named Neil Armstrong ended up making history (and speaking one of the most famous quotes in human history while doing so). Josh Singer, who won an Oscar for co-wroting Spotlight, will pen the screenplay. Yes, this does sound very promising, doesn't it?
While First Man sounds like a big left turn for Chazelle following Whiplash and La La Land, it's also a welcome one. Those are both terrific movies, but it's going to be nice to see him stretching his creative legs and flying into space instead of settling into another jazz club. It's also a smart choice for Gosling, an actor who has spent the past few years making smart choices and working with fascinating directors on often brave projects. Any actor who has the nerve and the taste to work with Nicolas Winding Refn, Adam McKay, Shane Black, and George Clooney is doing something right. And to be fair, Gangster Squad looked fine on paper.
But above all of that, it's about time we got a Neil Armstrong biopic. The man was a legitimate badass and one of the toughest people in human history. Think about how smart you have to be if you want to be an astronaut. Then think about how brave you have to be to get in a rocket and launch yourself into space so you can be the first person to land on Earth's only natural satellite. Not many individuals are made of that kind of stuff.
We all know how this story ends, but man, it's a story that deserves to be told and re-told. With artists as promising as Chazelle, Gosling, and Singer steering the lander, this sounds like a mission worth undertaking.