'Leap!' Trailer: Elle Fanning's Dreams Take Flight In 19th Century Paris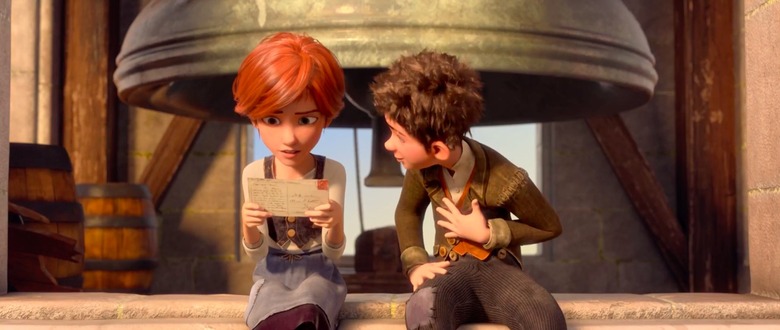 "Follow your dreams" may not be the theme of every animated movie ever made, but it is a common message for a bunch of them, from Moana to Sing. And next year brings yet one more in the same mold, Leap! directed by Eric Summer and Éric Warin.
Elle Fanning voices the lead, a plucky young orphan named Félicie in Belle Époque France. She dreams of training at the Opera Ballet School and becoming a dancer, so she runs off to Paris with her BFF Victor (Dane DeHaan), an aspiring inventor, to make her dream a reality. The film's already opened in a few non-U.S. markets under the title Ballerina, but it's just now making its way to the U.S. thanks to the Weinstin Company. Watch the Leap! trailer below. The Playlist shared the first Leap! trailer.
Boy, that looks dire. In fairness, it's terribly unfair to judge an entire movie by its trailer and even some really great films have been kneecapped by bad trailers. I should also point out that reviews for Ballerina in overseas markets have been mixed to positive, so apparently we're not dealing with a total stinker here. But man, that trailer is doing Leap! no favors.
The character designs are cute and the animation looks slick and expensive, but Fanning sounds like she's just going through the motions. And the 30-year-old DeHaan is really bizarre casting for a young boy, especially one who's serving as the love interest to a small child voiced by an 18-year-old. He sounds like he doesn't quite know what he's doing here, and I can't say I really do either.
Here's hoping the finished film is better than that trailer makes it look. And/or that the next trailer will be better than this one. Leap! is in theaters March 3, 2017.
Paris, 1884. An orphaned girl arrives in Paris from Brittany. Félicie Milliner is 11 and has no money but one big, passionate dream: to become a dancer. With nothing left to lose, Félicie takes a big risk: she 'borrows' a spoiled brats identity and enters the Opera Ballet School. But how long can she be someone else? Mentored by the tough and mysterious cleaner, Odette , Félicie learns that talent is not enough – it takes hard work to be better than her ruthless, conniving fellow students. That and friendship. Felicie's inventive, exhausting and charismatic best friend Victor also has a dream: becoming a famous inventor. Together, they both encourage each other to reach for the stars.