'Star Wars' Actors And Filmmakers Mourn Carrie Fisher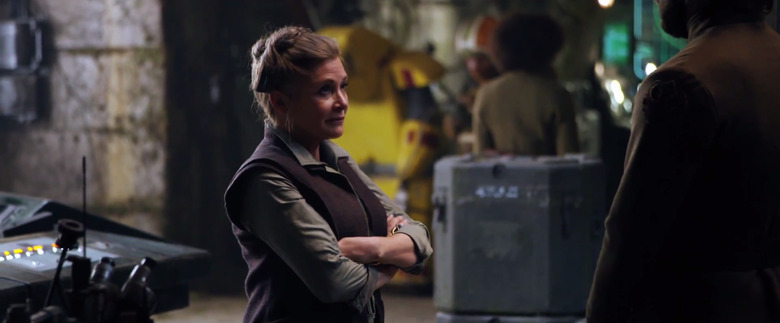 Carrie Fisher passed away yesterday at the age of 60. Although best known for her work as Princess Leia Organa in four Star Wars movies, she was so much more: a tremendous writer, an incredible wit, one of Hollywood's most prolific script doctors, and a brutally honest personality whose openness about mental illness provided hope and inspiration for many.
The fact that we can build an entire article around her colleagues saying nice things about her speaks volumes.
It's probably appropriate that we start with George Lucas, who created the Star Wars universe and was the first filmmaker to direct Fisher as Princess Leia:
Mark Hamill, who played her secret onscreen brother Luke Skywalker in the original trilogy, initially reacted to the news on Twitter:
no words #Devastated pic.twitter.com/R9Xo7IBKmh

— Mark Hamill (@MarkHamill) December 27, 2016
However, he managed to find words for a longer Facebook post, where he paid tribute to his friend and co-star:
It's never easy to lose such a vital, irreplaceable member of the family, but this is downright heartbreaking. Carrie was one-of-a-kind who belonged to us all- whether she liked it or not. She was OUR Princess, damn it, & the actress who played her blurred into one gorgeous, fiercely independent & ferociously funny, take-charge woman who took our collective breath away. Determined & tough, but with a vulnerability that made you root for her & want her to succeed & be happy. She played such a crucial role in my professional & personal life, & both would have been far emptier without her. I am grateful for the laughter, the wisdom, the kindness & even the bratty, self-indulgent crap my beloved space-twin gave me through the years. Thanks Carrie. I love you, mh
Harrison Ford isn't one for social media, but the man inside Han Solo's iconic vest provided a brief statement on Fisher's passing:
Carrie was one-of-a-kind...brilliant, original.  Funny and emotionally fearless. She lived her life, bravely...My thoughts are with her daughter Billie, her mother Debbie, her brother Todd, and her many friends. We will all miss her.
Anthony Daniels, who has been bringing C-3PO to life for 40 years, paid tribute on Twitter:
I thought I had got what I wanted under the tree. I didn't. In spite of so many thoughts and prayers from so many. I am very, very sad.

— Anthony Daniels (@ADaniels3PO) December 27, 2016
As did David Prowse, the imposing figure inside Darth Vader's costume in the original trilogy:
Peter Mayhew, better known to the world as Chewbacca, shared photos from over the decades:
There are no words for this loss. Carrie was the brightest light in every room she entered. I will miss her dearly. pic.twitter.com/GgIeYGeMt9

— Peter Mayhew Foundation (@TheWookieeRoars) December 27, 2016


Warwick Davis, who played Wicket the Ewok and had roles in The Phantom Menace, The Force Awakens, and Rogue One, shared a wonderful image from the set of Return of the Jedi:
Princess Leia, @carrieffisher now one with the Force. Your kindness & sharp wit will be missed. #RIP PS: Thanks for the milk & cookies. xx pic.twitter.com/sFSy9UmvYY

— Warwick Davis (@WarwickADavis) December 27, 2016


Billy Dee Williams also joined his fellow original trilogy actors in mourning Fisher's passing:
I'm deeply saddened at the news of Carrie's passing. She was a dear friend, whom I greatly respected and admired. The force is dark today!

— Billy Dee Williams (@realbdw) December 27, 2016
Filmmaker Joe Johnston, who worked as a concept artist on the original Star Wars trilogy before directing everything from The Rocketeer to Captain America: The First Avenger, shared a Carrie Fisher anecdote:
To all fans of the original trilogy and beyond – As if 2016 hadn't already become one of the most dismal years for many of us, with the loss

— Joe Johnston (@jjsketchbook) December 28, 2016
of so many we love and admire, now we have to say goodbye to Carrie Fisher.
I only met Carrie once, on the set of Jabba's sail barge

— Joe Johnston (@jjsketchbook) December 28, 2016
at Elstree Studios during a frosty November in the UK, but that's how I'll remember her, dressed in that iron bikini, cracking jokes with

— Joe Johnston (@jjsketchbook) December 28, 2016
the puppeteers who were desperately trying to get a convincing performance out of the mound of foam rubber that was Jabba the Hutt.

— Joe Johnston (@jjsketchbook) December 28, 2016
She is so much an integral part of what made those three films wonderful to work on and to watch.

— Joe Johnston (@jjsketchbook) December 28, 2016
It's hard to believe she's gone so young and heartbreaking to say goodbye forever to Princess Leia Organa.
Rest in peace, Carrie. #StarWars pic.twitter.com/qlPJ76E7ny

— Joe Johnston (@jjsketchbook) December 28, 2016
However, the outpouring of love goes far beyond those who worked with Fisher on the original Star Wars movies decades ago. Lucasfilm president Kathleen Kennedy issued a statement of her own:
Carrie holds such a special place in the hearts of everyone at Lucasfilm it is difficult to think of a world without her. She was Princess Leia to the world but a very special friend to all of us. She had an indomitable spirit, incredible wit, and a loving heart. Carrie also defined the female hero of our age over a generation ago. Her groundbreaking role as Princess Leia served as an inspiration of power and confidence for young girls everywhere. We will miss her dearly.
And J.J. Abrams, who directed her in last year's Star Wars: The Force Awakens, posted a handwritten note on Twitter:
— Bad Robot (@bad_robot) December 27, 2016
Rian Johnson, who directed Fisher on the recently wrapped Star Wars: Episode 8, spoke out on Twitter:
As did Philip Lord, the co-director of the upcoming Han Solo spin-off movie:
Saw @carrieffisher interview John Waters once. Never seen a funnier, more intelligent, and above all, honest person on stage.

— Phil Lord (@philiplord) December 27, 2016
Colin Trevorrow, who is set to begin filming Star Wars: Episode 9 in the near future, also paid tribute:
Always. pic.twitter.com/DvRhYCSHeV

— Colin Trevorrow (@colintrevorrow) December 27, 2016
Artists from the small screen also paid their respects, like Star Wars Rebels executive producer Dave Filoni:
— Dave Filoni (@dave_filoni) December 27, 2016
Rogue One: A Star Wars Story screenwriter Chris Weitz offered a few words:
And Rogue One composer Michael Giacchino summed it all up pretty succinctly:
I'm sad. pic.twitter.com/O0dsxZjlDM

— Michael Giacchino (@m_giacchino) December 27, 2016
Actors from the newer Star Wars movies also mourned Fisher on social media, with Captain Phasma herself, Gwendoline Christie, showing her true allegiance from under that First Order Stormtrooper armor:
We've lost our Princess. pic.twitter.com/N9xMYe6jLT

— Gwendoline Christie (@lovegwendoline) December 27, 2016
Andy Serkis, who plays Supreme Leader Snoke in The Force Awakens and Episode 8, shared his thoughts on Twitter:
Dearest Carrie, so incredibly sad to say farewell so soon to such a beautifully honest and unique human being- see you in the multiverse.

— Andy Serkis (@andyserkis) December 27, 2016
Daisy Ridley, who carries Fisher's torch in a big way as Rey in the new films, released the following statement:
Devastated at this monumental loss. How lucky we all are to have known her, and how awful that we have to say goodbye.
And fellow Rebel badass Felicity Jones, who plays Jyn in Rogue One, offered these words:
Such devastating news. I never met Carrie but consistently heard how profoundly sharp and witty she was. Her maverick spirit will be missed by us all.
John Boyega also chimed in:
My heart is heavy but I'm grateful that I got to know her. I'll cherish the memories, conversations and her consistent support. Rest well ❤️ pic.twitter.com/SkPiRgGf03

— John Boyega (@JohnBoyega) December 28, 2016


Lupita Nyong'o, who played Maz Kanata in The Force Awakens, shared a photo of her and Fisher on Instagram:
A photo posted by Lupita Nyong'o (@lupitanyongo) on
Simon Pegg, the actor and enormous Star Wars fan who played Unkar Plutt in The Force Awakens, made use of an appropriate emoji:
— Pegg News (@simonpegg) December 27, 2016
Greg Grunberg, the character actor who played X-Wing pilot Snap Wexley in The Force Awakens, also took to Twitter:
I'm heartbroken! Such a special person gone way too soon. I will forever miss #CarrieFisher. RIP

— Greg Grunberg (@greggrunberg) December 27, 2016
Author Chuck Wendig, whose contributions to the Star Wars canon include Star Wars: Aftermath and its sequels, shared a powerful excerpt from one of Fisher's interviews:
Disney CEO Bob Iger issued the following statement:
Bob Iger, chairman and CEO, The Walt Disney Company, on Carrie Fisher's passing: pic.twitter.com/syIhNC5ULa

— Disney D23 (@DisneyD23) December 27, 2016
And Walt Disney Studios chairman Alan Horn issued one of his own:
My heart goes out to the members of Carrie¹s family, friends, and legions of fans. She was an extraordinary woman, highly intelligent, and just plain funny. She will be missed.