Director J.A. Bayona Says 'Jurassic World 2' Is "Way Bigger" Than The Previous Movie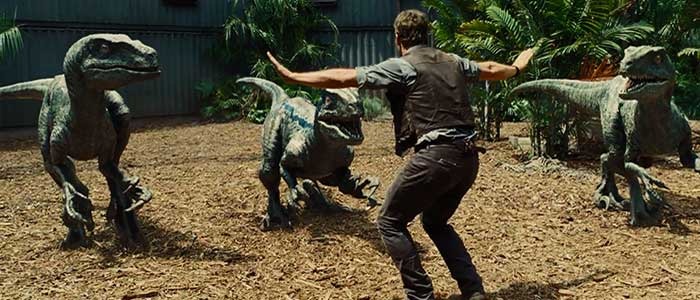 Director J.A. Bayona is an inspired choice to take on the sequel to Colin Trevorrow's Jurassic World, having revealed an eye for crafting sheer terror with The Orphanage and the ability to create astonishing technical set pieces with The Impossible. His latest movie, A Monster Calls, is very much a crowdpleaser...or whatever you'd call a movie whose cost of admission should come with a package of tissues.
While we still don't know too much about what he plans to do with the second film in the planned Jurassic World trilogy, Bayona is now saying that Jurassic World 2 will be a bigger film than its predecessor. More importantly, he breaks out the "f" word.
The "f" word in this case is "fun." Speaking with The Playlist, Bayona spoke about the scope of his sequel and said that making a dinosaur movie felt like the right call after the grimness of his past few movies:
After doing The Impossible and A Monster Calls I said, 'I want to have fun now.' So, let's do a dinosaur film with Spielberg. It's great, but at the same time it's massive and way bigger than [the last] one.
Still, in typical J.A. Bayona fashion, the filmmaker has previously alluded that Jurassic World 2 will be a bit darker than other movies in the series and won't shy away from a little bit of political commentary. In this new interview, he also spoke about keeping the Jurassic series fresh in its fifth entry and how the new film will pay tribute to the past while paving new ground:
I think what is tricky about doing the fifth movie of a franchise is how will you bring in new stuff and still pay tribute to what we all know and the legacy of the film. So, it's the balance between the new stuff and the old stuff. I think Colin did a great job in the first one finding the balance between what people are expecting and what people are being again. I was kind of surprised when he pitched me the story because it leads the story to a place that we've never seen before and it brings some of the most important elements from the other films and makes something with them. I thought that was very interesting. It's the second chapter of a trilogy so it gets the story to a place that wants you leaving more and more.
While I'm not nearly as warm on A Monster Calls as many other people (our own Angie Han liked it more than I did), Bayona remains a talent to watch and I'm very interested in seeing how a filmmaker with his sensibilities tackles a movie that has to be made for such a wide audience. How he juggles the demands of a blockbuster sequel with his inherently darker vision could make for a real treat.
Jurassic World 2 is set for a June 22, 2018 release. Plot details are under wraps, but we do know that B.D. Wong will return once again, so take from that what you will.