Tour Walt Disney World's 'Avatar' Land With This New Video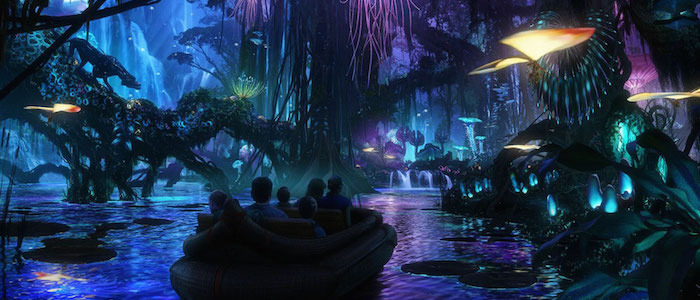 For theme park fans, Walt Disney World's Pandora: The World of Avatar has long existed as a series of rumors wrapped in photos taken from a distance, a handful of intriguing promises that didn't quite line up with the fact that the Animal Kingdom theme park's newest themed land has looked like a construction site for most of the past year. So this new video, which teases this endeavor as an actual place with rides you can go on and things you can do, is a pleasant surprise after so many aerial photos tracking minuscule changes.
The video features Disney Imagineer Joe Rohde, Avatar director James Cameron, and Avatar producer Jon Landau as talking heads, explaining why this area is so exciting and how it's going to blow your mind and so on and so forth while footage of the land and its attractions plays. Thankfully, much of that footage on display backs up their words. Whether you like the Avatar movie or not (I think it's good!), it seems that Disney has built something genuinely immersive and impressive that stays true to the tone and visuals of the original film.
Here's the Pandora The World of Avatar video from Disney:
The most exciting aspect of this video is the inside look at the two major attractions that will open with the land next year. We get to see footage of the Na'vi River Journey, a water flume dark ride that takes guests through the jungles of Pandora, and Flight of Passage, a simulator ride that allows riders to feel as if they're riding a mountain banshee over the planet. Both rides share the DNA of past attractions – the former is very much a riff on the Pirates of the Caribbean/It's a Small World template while the latter utilizes similar technology as the still-impressive Soarin' – but the the ambition on display is undeniable. I've written before about how Universal Studios' Wizarding World of Harry Potter was a shot across the bow in the Theme Park Wars and this feels like a giant volley of return fire.
Pandora: The World of Avatar still doesn't have an official opening date, but Disney indicated that it should be open sometime in the summer of 2017. Between this and Universal's upcoming Super Nintendo World, it's a good time to be a theme park enthusiast.