VOTD: Watch A Stress-Inducing 'Saturday Night Live' Set Change In Under Two Minutes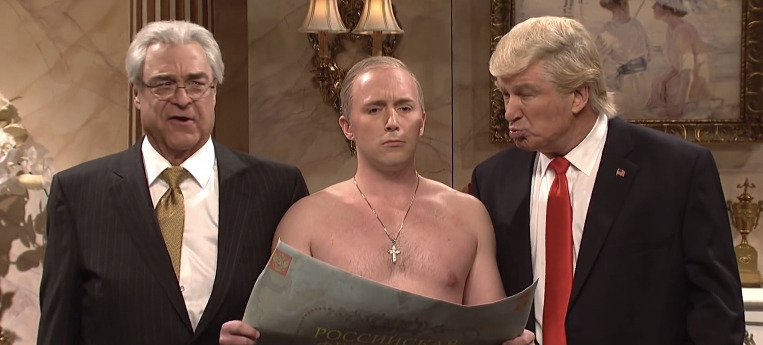 When people watch Saturday Night Live, I don't think many of them realize just how small of a space Studio 8H actually is in 30 Rockefeller Plaza. There's only so much room for the various sets created for SNL that some of them are put up and taken down in just a few minutes, either during the opening credits or over commercial breaks. And now you get to see how they do it.
The cold open from this past weekend's SNL with host Casey Affleck (which wasn't a great episode overall) started off in the office of Donald Trump (Alec Baldwin) as he met with Vladmir Putin (Beck Bennet) and Rex Tillerson (John Goodman). That set actually sat right on the mainstage where the monologue happens during every episode, in front of the SNL band, and the crew tore it down in less than two minutes.
Watch the Saturday Night Live set change video after the jump.
This happens so fast that I found myself getting nervous for the crew to get the set torn down before the opening credits were done. The countdown didn't help matters any either. But these are professionals, and this is exactly what they do each and every week. It makes me wonder what the set changes are like when the stages are much more elaborate, even when they're built so that they are able to be taken down swiftly.
Now if only getting a ticket to see Saturday Night Live wasn't harder than winning the lottery. Then I could see this happen in person. It's certainly a bucket list item, but it's one that I'll have to continue to experience vicariously through these ongoing videos about the creation of SNL.