David Bowie Could Have Been Gandalf In 'The Lord Of The Rings'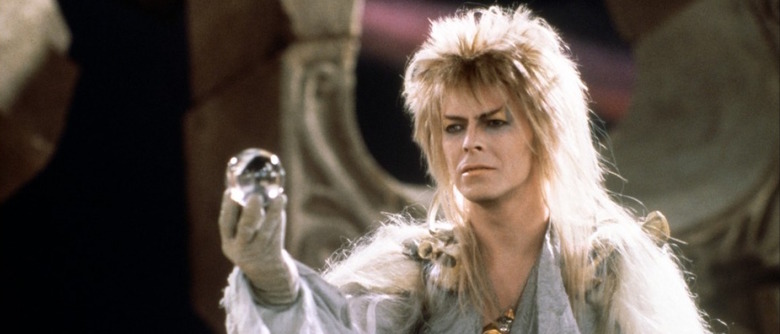 Shortly after the great David Bowie passed away earlier this year, actor Dominic Monaghan recounted the story of seeing the legendary pop icon and actor while auditioning for Peter Jackson's Lord of the Rings films. Naturally, this left fans wondering: which character was Bowie auditioning for and why didn't he snag the part? Now, the whole story has come out.
First of all, here is Monaghan's side of the story, which takes place before he was confirmed to have the role of Meriadoc "Merry" Brandybuck and a few years before he would become even more well known thanks to his terrific (and meme-worthy) work on Lost:
I was doing an audition for Lord of the Rings, and when it ended I went over and talked to John Hubbard, who was running the audition, and he said, 'Hey, it went really well. You should wait around for 5 or 10 mins. We'll give you some feedback. I thought, 'Oh, OK, cool, and I sat in the reception office. As I was reading a magazine waiting, David Bowie came in and signed his little list and went in. And I'm assuming he read for Gandalf. I can't think of anything else he would've read for. He may have read for something else, but I'm a huge David Bowie fan, so just seeing him in person was pretty special to me.
Speaking with The Huffington Post, casting director Amy Hubbard has revealed the other side of this tale. She confirms they were hoping to get David Bowie as Gandalf, but he was simply too busy to commit to a proper audition:
He was unavailable. It was a very quick conversation with the legendary Chris Andrews at CAA. I do believe that [Bowie] went over and played for everybody at the Millennium party. That would've been New Year's Eve in the year 1999, which was when the films were being shot. He went over and entertained everybody, but he never auditioned. That's for sure.
While David Bowie means more to me than just about any entertainer, it can't help but feel like a stroke of good fortune that he didn't get the park. After all, we instead got the great Ian McKellen giving one of the truly iconic performances of the past twenty years. McKellen's blue collar sensibility and folkiness work as J.R.R. Tolkien's powerful wizard is disarming and surprising – Bowie's inherent eccentricity would have made for a very different character. Although the Thin White Duke would have made one hell of an elf.