'The Lost City Of Z' Teaser Trailer: Charlie Hunnam And Tom Holland Find Danger In The Amazon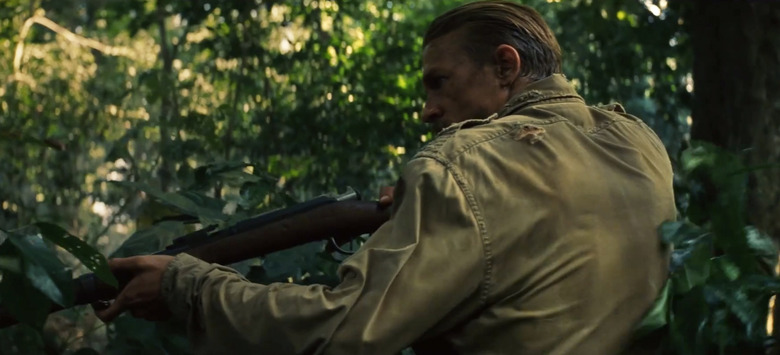 An adaptation of the best-selling book The Lost City of Z has been in the works for years. While names like Brad Pitt and Benedict Cumberbatch in the lead role came and went, the film from James Gray ended up landing younger star Charlie Hunnam (Pacific Rim) in the lead role with Robert Pattinson, Tom Holland and Sienna Miller making up the supporting cast. Now we finally get to see what the film has in store for us with The Lost City of Z teaser trailer that was just released.
Here's The Lost City of Z trailer from Amazon Studios:
After premiering at the New York Film Festival earlier this year, The Lost City of Z landed some solid reviews, including this blurb from The Hollywood Reporter:
The Lost City of Z is a rare piece of contemporary classical cinema; its virtues of methodical storytelling, traditional style and obsessive theme are ones that would have been recognized and embraced anytime from the 1930s through the 1970s. Whether they will be properly valued by more speed-minded modern audiences will only become known when this immaculate production is released next spring, a half-year after its world premiere as the closing-night attraction at this year's New York Film Festival.
In reading reviews of the film, it sounds almost like a classic jungle adventure. Even though the book is based on a true story, the details of what British explorer Percy Fawcett found when he went deep into the Amazon are manufactured. Still, this looks like quite a compelling venture into the jungle. We'll find out in the spring.
Based on author David Grann's nonfiction bestseller, The Lost City of Z tells the incredible true story of British explorer Percy Fawcett (Charlie Hunnam), who journeys into the Amazon at the dawn of the 20th century and discovers evidence of a previously unknown, advanced civilization that may have once inhabited the region. Despite being ridiculed by the scientific establishment who regard indigenous populations as "savages," the determined Fawcett – supported by his devoted wife (Sienna Miller), son (Tom Holland) and aide de camp (Robert Pattinson) – returns time and again to his beloved jungle in an attempt to prove his case, culminating in his mysterious disappearance in 1925. An epically-scaled tale of courage and obsession, told in Gray's classic filmmaking style, The Lost City of Z is a stirring tribute to the exploratory spirit and those individuals driven to achieve greatness at any cost.
The Lost City of Z opens in NY and LA on April 14, 2017 and expands wider the following week.