The 'John Wick' Comic Will Bless Us With More John Wick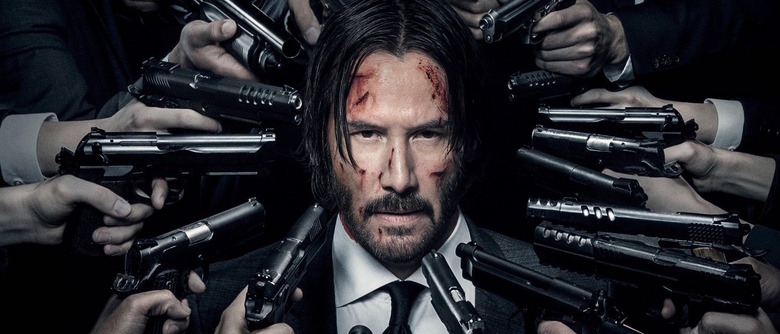 Right now, the more we see of John Wick, the better, so the news of a John Wick comic is nothing but music to our ears. We'll see the character's eagerly-awaited return early next year in John Wick: Chapter 2. There's already some talk, thank Heavens, of a John Wick: Chapter 3, but on the big screen isn't the only place fans can find the dog lover, thanks to Dynamite Entertainment and Lionsgate Entertainment. They're bringing the hit man to your local comic book store sometime next year.
Below, learn more about the John Wick comic.
It's unclear if the John Wick comic will take place before or after the events of next year's sequel, but the press release sent out by Dynamite and Lionsgate promises original stories. No author or artist is mentioned, but the press releases includes some pencil tests of Keanu Reeves as John Wick by artist Giovanni Valletta,:
Dynamite CEO and Publisher Nick Barrucci stated the comic will tell "all-new stories":
John Wick was such an exciting film, mixing martial arts action with snappy dialogue and smart writing. As the credits rolled, you were left wanting more, and it was obvious that they had the makings of a franchise. We were quick to pursue the opportunity to develop a comic book series, and are thrilled to have been granted the rights to tell all-new stories with the character!
Sheila Clarke, SVP Global Consumer Products Lionsgate Entertainment, added the comics are going to "expand the John Wick universe."
A comic series is the perfect vehicle to engage in a different way with fans as well as expand the John Wick universe. We found a great partner in industry leader Dynamite Entertainment who shared our passion and enthusiasm for the franchise.
If there's one universe we'd like to see expanded, it's John Wick's, which has so many memorable supporting characters and great possibilities for future stories. Whether in sequels or comics, who doesn't want to see Wick continue to explore this fun, shadowy world of assassins? The good news is, fans we'll have the opportunity to see him do just that in the comic and the upcoming sequel, which brings the character to Rome. Wick will soon faceoff against killers played by Common and, somebody who looks like a fine foe for John Wick, Ruby Rose. You can check out the latest trailer for John Wick: Chapter 2 here.
John Wick: Chapter 2 opens in theaters February 10th.