New 'Ghostbusters' Crossover Comic Has The 1984 Crew Meet The 2016 Team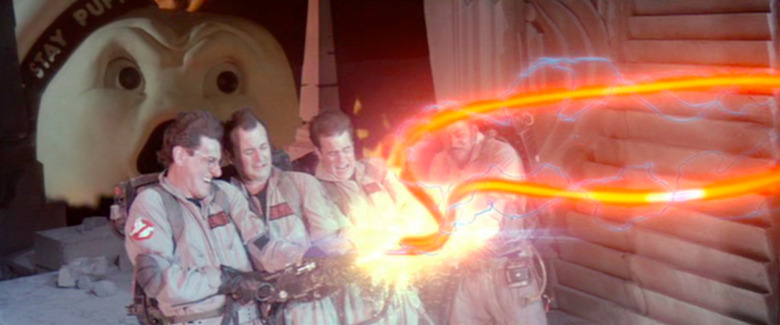 It's probably a safe bet that we'll never see the return of Peter Venkman, Egon Spengler, Ray Stantz and Winston Zeddemore on the big screen as the original Ghostbusters. Not only have we lost one of the original cast members (RIP Harold Ramis), but the reboot has established itself as existing in an entirely different universe, despite the many similarities and borrowed elements between the reboot and the original, making a crossover essentially impossible. But that doesn't mean we can get a Ghostbusters crossover elsewhere.
Comics publisher IDW has announced some of the forthcoming 2017 titles, and one of them is a Ghostbusters crossover that will see the original 1984 team meeting Erin Gilbert, Abby Yates, Jillian Holtzmann and Patty Tolan, the conductors of the metaphysical examination from the 2016 movie. Find out more about the Ghostbusters crossover comic below.
Here are two of the comic covers for the new Ghostbusters 101 comic coming in March (via PreviewsWorld):
It looks like the primary cover is a piece of a larger image that will eventually include all of the characters. But how is IDW explaining how they all come together? Here's the synopsis of the new comic:
Before they began investigating the supernatural, most of the original Ghostbusters were teachers... and they've decided it's time they start sharing their knowledge again. But when their first batch of students start poking around the firehouse and accidentally set in motion the merging of two universes (it's easier than you'd think) Venkman, Stantz, Zeddemore, and Spengler will need all the help they can get to put things right! And who do you think will Answer The Call? (If you guessed Holtzmann, Yates, Tolan, and Gilbert... you get a gold star!) It's a brand new inter-dimensional meeting of the minds, starting here!
Here's another piece of art from the upcoming comic book that was officially announced today: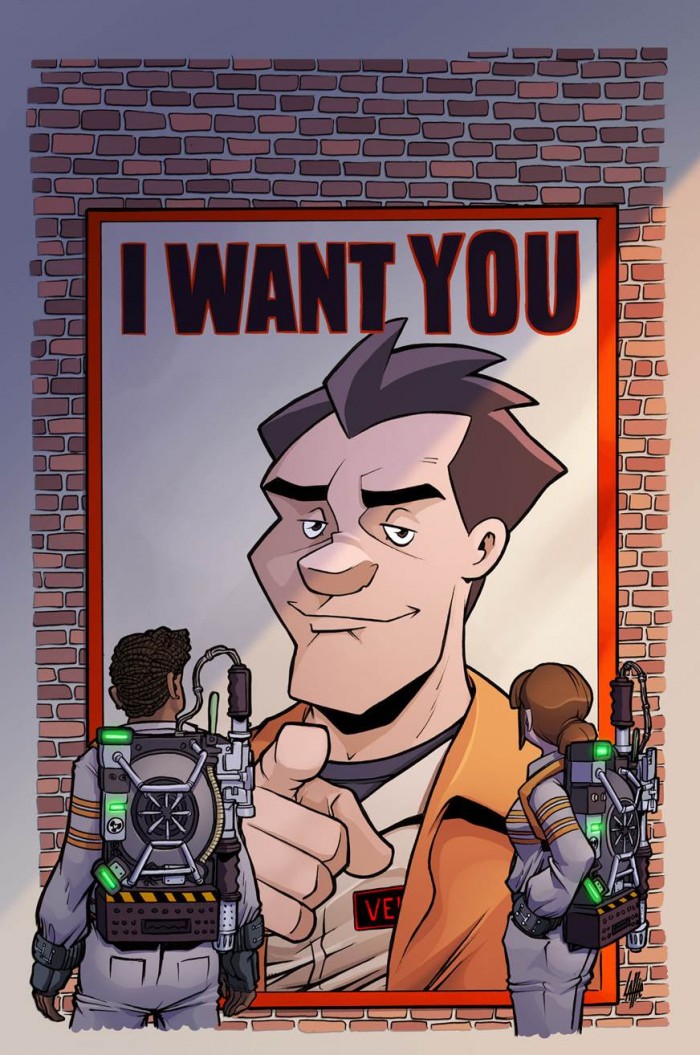 Ghostbusters director, co-writer and producer Ivan Reitman had this to say about the new comic:
"I've always wanted to meld the two worlds. It would be great fun to see them all together for the first time and I think it's important for the future that we bring it back into a single universe."
This is the first time the new Ghostbusters will be getting their own comic book adaptation, and it could be the start of a new series of stories for the team, which might be a consolation prize if a sequel doesn't get off the ground. However, this won't be the first time the original Ghostbusters have had a wild crossover like this in comic form. They previously met the Teenage Mutant Ninja Turtles in a crossover comic series as well: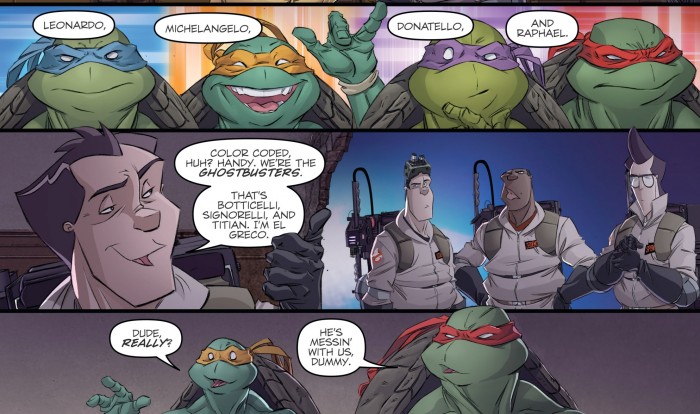 Ghostbusters 101 hails from creative team of Erik Burnham, Dan Schoening, and Luis Antonio Delgado, and it will be available on March 22, 2017