'The Expendables 4' Coming In 2018, Will End The Series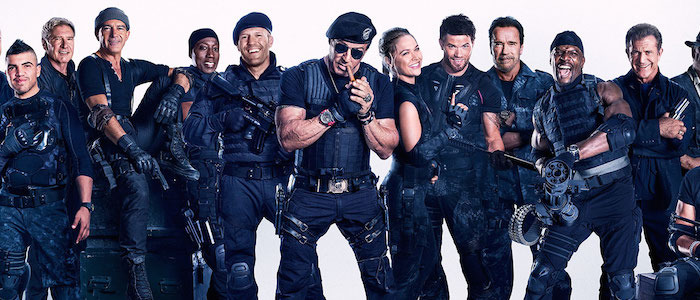 The Expendables was less of a movie and more of an excuse for Sylvester Stallone and his various aging action movie co-stars to pose and preen. Like a former high school quarterback returning to his old stomping grounds to rally the new team at homecoming, these movies represent a nostalgic eagerness with a dash of vanity – you can feel everyone involved muttering "Let's show these kids how it's really done" between the frames.
It was charming for a little while. And then it wore off. The Expendables 3 didn't make nearly as much money as the first two films, but those international numbers were apparently high enough to justify one more sequel. It looks like The Expendables 4 is happening and it will be in theaters in 2018.
While there hasn't been any kind of grand official announcement, an article at The Hollywood Reporter says that Splendid Film has signed on the dotted line to acquire the German rights to the third Expendables sequel (Lionsgate has distributed the previous movies in the United States), with the film expected to arrive at some point in 2018. There are no other specifics to dig into at the moment.
It's also not known which members of the increasingly unwieldy ensemble will return or who will step behind the camera. In January, series co-star Terry Crews suggested that Stallone himself might sit out the sequel, if he happened to snag that Best Supporting Actor Oscar for Creed:
I have to say, with Sly, I think it looks like he's going to get an Oscar. It's a matter of whether he'll be in it. If he got the Golden Globe, he got the Oscar, there's a lot more things that are going to be offered to him, but if Sly is in it, I'm in. [...] I'm just thinking he's got options now. As well he should. He should think about what his next move is going to be, what he's going to do. Creed was amazing, amazing. It showed his depth and he's a lot deeper than people always give him credit for.
But Stallone did not win that Oscar (he lost to Mark Rylance for Bridge of Spies), so by Mr. Crews' logic, he'll probably return as deadly mercenary Barney Ross one more time. I'd also put good money on Jason Statham coming back once more as Lee Christmas, because if there is one thing Jason Statham doesn't do, it's say no to movies. The usual crew (Crews, Dolph Lundgren, Randy Couture) will probably show up again and the production will surely find a way to once again give Arnold Schwarzenegger a scene or two.
Anything beyond that is pure speculation...even the story about Stallone wanting Hulk Hogan to play a villain.