'The Founder' Clip: McDonald's Golden Arches Mean More Than Hamburgers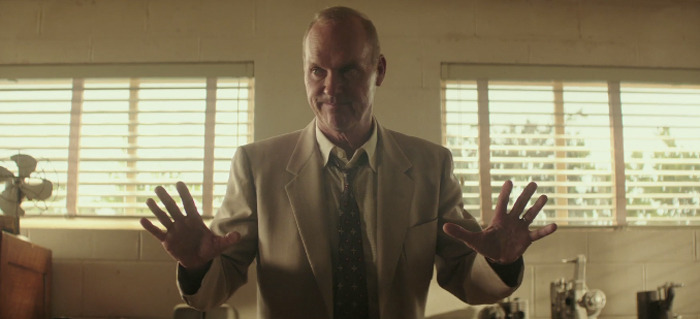 When the first trailer for The Founder debuted back in April, the film about the creation of the massive fast food chain known as McDonald's was slated for an August release. But about a month before the film was set to debut in theaters, The Weinstein Company decided it was good enough for a run through awards season, opting to give it a limited release this month starting this past weekend before it goes wide in January. Now the marketing blitz is starting to push it to awards voters.
In The Founder, we get Michael Keaton starring as Ray Kroc, a struggling salesman who convinced two brothers to take a successful hamburger diner in Southern California in the 1950s and turn it into a national chain of restaurants. Now a new clip from the movie features Keaton giving meaning to the signature McDonald's logo, saying they mean more than just delicious hamburgers.
Here's The Founder clip starring Michael Keaton from Deadline:
The two brothers (Mac and Dick McDonald) are played by John Caroll Lynch and Nick Offerman respectively, who are a bit reluctant to take the advice of Ray Kroc and turn their successful little business into something more. As we know, they eventually come around, but only to ultimately end up talked right out of their company, allowing Kroc to turn McDonald's into what it is today. Funnily enough, the arches really don't mean delicious hamburgers at all anymore.
Michael Keaton has been on a big upswing in his career in the past few years, but between The Founder and next summer's Spider-Man: Homecoming (watch the trailer right here), it sounds like he's finally found the sweet spot to make a full-on comeback. If you don't believe me, check out the most recently released trailer right here.
The Founder, directed by John Lee Hancock (The Blind Side, Saving Mr. Banks), features the true story of how Ray Kroc (Michael Keaton), a struggling salesman from Illinois, met Mac and Dick McDonald, who were running a burger operation in 1950s Southern California. Kroc was impressed by the brothers' speedy system of making the food and saw franchise potential. Writer Robert Siegel (The Wrestler) details how Kroc maneuvered himself into a position to be able to pull the company from the brothers and create a billion-dollar empire.
The Founder is in limited theaters now and it goes wide on January 20, 2017.