The Latest 'Twin Peaks' Season 3 Teaser Consists Mostly Of David Lynch Eating A Donut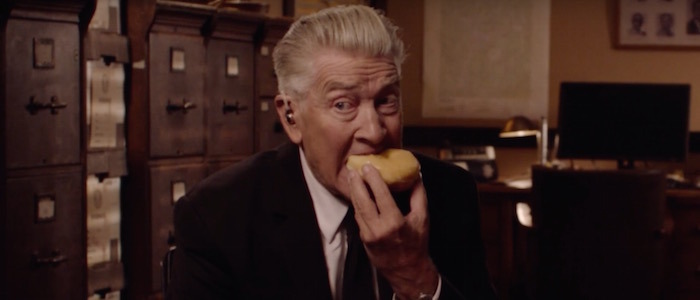 What if I told you that the latest teaser for Twin Peaks season 3, one of the most mysterious and anticipated television events in some time, dedicated most of its precious 30 seconds to series co-creator, director, and actor David Lynch eating a donut? If you don't know the show at all, you'd raise an eyebrow and wonder what the hell is going on. If you are familiar with the series, even just a little bit, you'll probably say, "Yeah, sounds about right."
Created by Lynch and Mark Frost, Twin Peaks ran for one beloved first season and one not-so-beloved second season on ABC in the early '90s. Its opaque storytelling, numerous mysteries, and eccentric characters foretold the arrival of shows like Lost and Westworld. It was a decade or so ahead of its time, which made it simultaneously must-see TV and hopelessly doomed TV. The return of Twin Peaks at this point in television history feels right. The rest of the landscape has finally caught up to what Lynch and Frost were trying to do.
Anyway, the teaser features Lynch, returning to the series as FBI Regional Bureau Chief Gordon Cole, chowing down on a donut while that familiar theme music plays in the background. Enjoy.
All of the Twin Peaks season 3 teasers and featurettes released so far feel more like an elaborate practical joke than an actual show that is supposed to arrive sometime next year. The absolutely absurd cast is a parade of familiar faces from the original series, David Lynch regulars, and total newcomers and includes (but is not limited to) Kyle MacLachlan, Jim Belushi, Miguel Ferrer, Kimmy Robertson, Dana Ashbrook, Amy Shiels, James Marshall, Robert Knepper, Chrysta Bell, Harry Goaz, Naomi Watts, Michael Cera, Monica Bellucci, Tim Roth, Laura Dern, Ashley Judd, Amanda Seyfried, Jennifer Jason Leigh, Jeremy Davies, Ernie Hudson, David Koechner, Derek Mears, Matthew Lillard, Tom Sizemore, Harry Dean Stanton, Ethan Suplee, Caleb Landry Jones, Jane Levy, Sara Paxton, Charlene Yi, Trent Reznor, Eddie Vedder, Richard Chamberlain, and Robert Forster.
Even the official synopsis essentially recaps the first two seasons of the show without providing a single ounce of new information about what to expect:
Widely considered one of the most groundbreaking and influential broadcast series of all time, TWIN PEAKS followed the inhabitants of a quaint northwestern town who were stunned after their homecoming queen Laura Palmer was shockingly murdered. The town's sheriff welcomed the help of FBI agent Dale Cooper, who came to town to investigate the case. As Cooper conducted his search for Laura's killer, the town's secrets were gradually exposed. The mystery that ensued set off an eerie chain of events that plunged the inhabitants of Twin Peaks into a darker examination of their very existence. Twenty-five years later, the story continues...
Twin Peaks season 3 is set to return at some point in 2017. We don't know how many episodes there will be exactly because that's apparently something Lynch was going to figure out in post-production after shooting the whole season as one long script. Insanity.