Michael Giacchino Does Not Require Sleep, Will Score 'Jurassic World 2'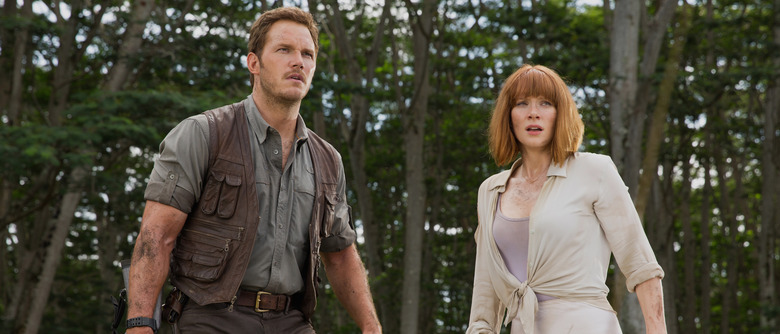 The busiest man in show business is obviously Dwayne Johnson, who seems to bounce from once project to another as if a tiny explosive implanted in his brain will explode if he's not on a film set. But the second busiest man in show business is composer Michael Giacchino, who has become the go-to guy for seemingly every major film franchise on the planet. In the past two years alone, he has crafted the music for nine movies, not including a handful of shorts.
"Sleep? What is sleep to Michael Giacchino?!" he whispers to himself as he agrees to return for Jurassic World 2.
This news comes to us in a throwaway line in new interview with The Hollywood Reporter (via Film Music Reporter), where Giacchino talks about following in the footsteps of the legendary John Williams to compose the music for Rogue One: A Star Wars Story... which came directly after he entered the world of Marvel superheroes with Doctor Strange... which came right after he returned, for the third time, to the greatest science fiction series of all time with Star Trek Beyond... which came after he supplied to the music to Disney's Zootopia earlier this year. Remember that he is also one of Pixar's go-to guys and you have a shocking reminder that Giacchino has made it a habit of sneaking into everything you love.
While I have many Strong Opinions about the first Jurassic World, Giacchino's score is a highlight. He's clearly in awe of John Williams' original work and treats it with great respect, putting his own personal stamp on familiar themes while reminding us why we loved this music in the first place. While he won his Oscar for creating something wholly new with Pixar's Up, this is Giacchino's chief speciality – warmly embracing the familiar and remixing the iconic. Even his wonderful score for The Incredibles feels like a deliberate tribute to the work of John Barry.
And Giacchino isn't slowing down, either. He's already working on three 2017 movies, writing music for The Book of Henry, War for the Planet of the Apes, and Spider-Man: Homecoming, with The Incredibles 2 on his plate for 2018. You can hear his score Rogue One in theaters right now or you can stream it on Spotify.
Jurassic World 2 will presumably have a proper title at some point and will be directed by J.A. Bayona, whose A Monster Calls is set to open in a just a few days.