Michael Showalter, David Wain & Michael Ian Black Are Going On A 'Moon Cruise'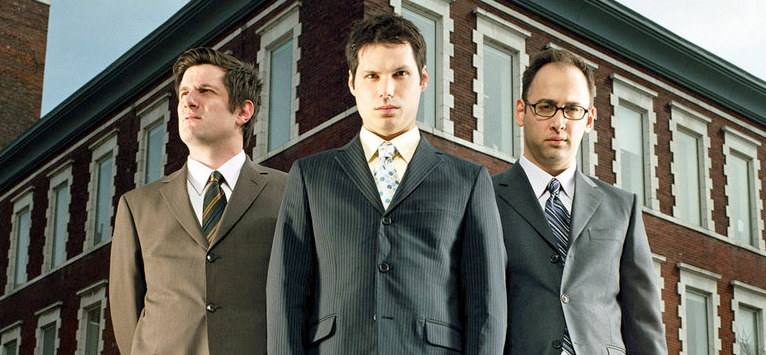 You'd be hard pressed to find a more gifted, tight-knit trio of comedians and content creators than David Wain, Michael Showalter and Michael Ian Black. These three have been friends for years, even once having their own comedy act known as Stella before going on to become creators and writers of the sketch comedy series The State. In addition, Wain and Showalter have become acclaimed filmmakers behind such comedy favorites as Wet Hot American Summer, Role Models and They Came Together, not to mention underrated movies like Wanderlust and The Baxter, and Michael Ian Black has had a fun part in nearly all of them.
Now David Wain, Michael Showalter and Michael Ian Black are reteaming with their Wet Hot American Summer colleague Jonathan Stern for a new comedy series called Moon Cruise, and it sounds like the perfect opportunity for these three to do more great things on TV.
The Hollywood Reporter reveals TBS is behind the new Moon Cruise TV series, which is described as The Love Boat set in space. Sadly that's all the details we have on the show's concept, but with Wain, Black an Showalter involved, that's all I really need to know.
The concept comes from Black, who will also star in the series as well as executive produce with Showalter, Stern and Wain. Since The Jim Gaffigan Show sadly came to an end, Black has a little more time to take on another TV show, though he still has a key role in Comedy Central's period reality series comedy Another Period.
TBS recently found success with Michael Showalter after picking up his comedy series Search Party starring Alia Shawkat. That series just landed a second season renewal, so the network always on the lookout for "very funny" programming is clearly happy with the kind of content they're getting from this crew.
As someone who has long been a fan of anything and everything these guys do, I can't wait to see what they bring to the table with a TV series like this. Plus, let's not forget that there's still more Wet Hot American Summer on the way with the Ten Years Later sequel coming sometime in 2017, with even more cast members being added to the already crowded roster.
Just because I don't often get a chance to reference it, here's one of my favorite old bits from David Wain, Michael Ian Black and Michael Showalter: