LOL: Liam Neeson As Santa Claus Should Terrify Your Kids Into Behaving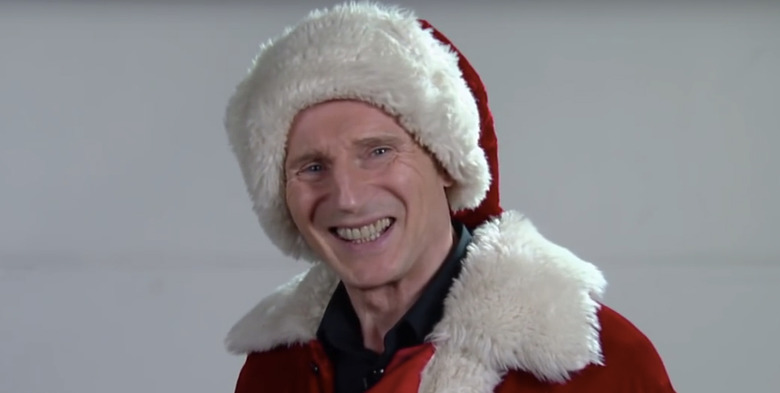 It's kind of amazing that more kids aren't totally creeped out when they hear from their parents that there's a fat, bearded guy in a red suit who sees them when they're sleeping and knows if they've been bad or good. The concept of kids being overseen by Santa Claus, a complete stranger just so they can receive gifts from him is simply kind of scary, but it could be worse, especially if the jolly man was Liam Neeson.
You might be thinking that there's nothing scary about the loving father who tries to help his son fall in love with a girl in Love Actually, but let's not forget that Liam Neeson was the star of Taken, and a man who made being a priest deadly in Gangs of New York. But now you can see how scary the actor can be if he were Santa Claus thanks to an audition tape unearthed by The Late Show with Stephen Colbert.
Watch the Liam Neeson Santa Claus audition after the jump.
I think I'd be fine if Liam Neeson never smiled like that again. Also, if you ever see Liam Neeson making a list, just run the other way. There's no way that's just a grocery list.
This is admittedly a pretty easy bit to manufacture. And since Taken 3 is almost three years old now, it's a bit dated as well. But Neeson does have two movies coming out this holiday season. One is the religious drama Silence from director Martin Scorsese (which has gotten solid early reviews) and the other is the fantastical family drama A Monster Calls, based on the book of the same name.
As for when we might see Liam Neeson take on the mantle of Santa Claus, well, I wouldn't be surprised to see that happen sometime later in his career, but only once he's too old to throat punch any kids for not leaving him milk and cookies.