'T2: Trainspotting' Featurette Reveals Ewan McGregor's New Addiction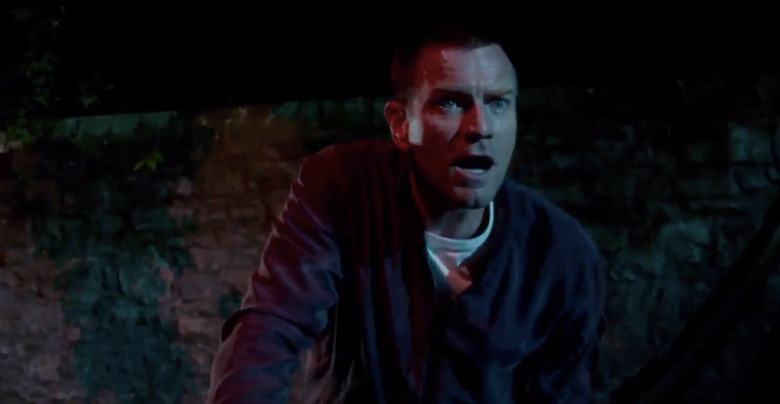 Even the most die hard fans of Danny Boyle's cult classic drug-fueled drama Trainspotting are skeptical about whether or not the filmmaker can craft a worthy follow-up to the beloved movie. The teaser trailer does provide hope though as even the visuals perfectly capture the vibe of the original movie, promising a thematic sequel as much as a narrative one.
Now we get a little more information about what we can expect from one of the returning characters from the original movie as a new T2 Trainspotting featurette focuses on Ewan McGregor as Renton, who no longer rides the H-train, but has found a new addiction in its place. Watch the new video below.
Here's the new T2 Trainspotting 2 featurette courtesy of Entertainment Weekly:
Exclusive: @mcgregor_ewan's character has a NEW addiction in @T2Trainspotting: https://t.co/liGYZQ4sDI #T2Trainspotting 😮 pic.twitter.com/76BbAZYN7L

— Entertainment Weekly (@EW) December 16, 2016
So Renton is now addicted to endorphin, the brain chemical released from the pituitary gland during periods of strenuous exercise, emotional stress, pain, and orgasm. That means Renton is constantly running, at the gym, and presumably having plenty of sex (though that's not shown in this tame featurette). This seems to be a metaphor for the fact that Renton has left home and all of his friends behind, but no matter how much he runs, he still ends up coming back home.
Despite all of the bad things that happened, Spud (Ewen Bremner), Sick Boy (Jonny Lee Miller), and Begbie (Robert Carlyle) are his friends. They get him. And they'll always be there for him. Maybe now they've all grown up a bit and they can have a normal life. But as the official synopsis has indicated (read it below), it appears there is still some darkness lingering back home as well. Will Renton's former addiction rear its ugly head? We'll have to wait to find out next year.
First there was an opportunity......then there was a betrayal.
Twenty years have gone by.
Much has changed but just as much remains the same.
Mark Renton (Ewan McGregor) returns to the only place he can ever call home.
They are waiting for him: Spud (Ewen Bremner), Sick Boy (Jonny Lee Miller), and Begbie (Robert Carlyle).
Other old friends are waiting too: sorrow, loss, joy, vengeance, hatred, friendship, love, longing, fear, regret, diamorphine, self-destruction and mortal danger, they are all lined up to welcome him, ready to join the dance.
T2 Trainspotting opens January 27th, 2017 in the U.K. & Ireland and a limited release on March 3rd, 2017 in the US followed by a wide release on March 10, 2017.