Sci-Fi Classic 'Metropolis' Is Getting A TV Miniseries From 'Mr. Robot' Creator Sam Esmail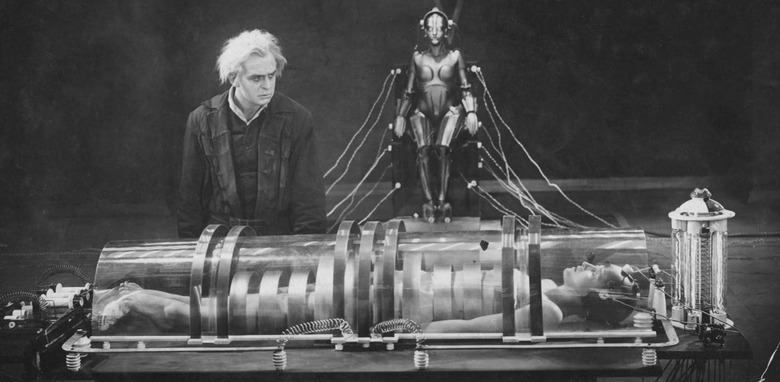 With Westworld being all the rage among critics and general audiences, it should come as no surprise that Universal Cable Productions is reaching back into sci-fi history for its latest miniseries project.
Right now Sam Esmail is at the top of his game after creating the hit USA series Mr. Robot, and a new report indicates he'll be heading into full fledged sci-fi territory with a miniseries adaptation of Fritz Lang's classic 1927 film Metropolis.
Find out more about the Metropolis miniseries after the jump.
The Hollywood Reporter has word that Sam Esmail is developing the Metropolis miniseries to executive produce along with Chad Hamilton at Anonymous Content. However, since Esmail is still very much involved with Mr. Robot, which has a third season coming to USA sometime in 2017, it's not clear how involved he'll be on Metropolis. After all, Esmail was responsible for writing and directing every single episode of the second season of Mr. Robot, and that's presumably something he'll continue to be hands-on with for the time being.
The good news is that Esmail won't be rushed into figuring out how big of a role he wants to have behind the scenes of Metropolis. As of now, Universal isn't planning to launch the series for two or three years, which would allow Esmail to stick with Mr. Robot to its proposed end since the show is only intended to last four or five seasons. They must really want Esmail on board this project, and considering how revered the title is, you can't blame them for wanting to get it right.
The Metropolis miniseries will follow the same basic story as the original movie. But if you're not familiar with the title, which will be 90 years old next year, here's how the project is described by THR:
Like the original film, the small-screen adaptation will take place in a future society where wealthy industrialists rule the vast city from high-rise tower complexes, while a lower class of underground-dwelling workers toil constantly to operate the machines that provide its power. Risking everything they know, two star crossed lovers from opposite sides of the divide must find a way to bring down the whole system.
The German film was a groundbreaking piece of sci-fi, praised for its beautiful visuals and impressive special effects, but initially met with mixed perception. As time has gone on, Metropolis has come to be called a masterpiece, despite the fact that most cinephiles have never seen the film in the form in which it was originally screened back in 1927. The original cut was 153 minutes, and that version of the film had been considered lost for a long time. A restoration in 2002 delivered a 118 minute version of the movie, but 2010 brought the most definitive version of the movie yet with a running time of 148 minutes.
Technology has come a long way since 1927, and with Universal willing to spend as much as $10 million per episode, this sounds like it's going to be quite the large scale sci-fi miniseries. But will it be able to live up to the expectations hardcore cinephiles have for it while appealing to general audiences? Hopefully we'll find out in a few years.