Watch A 'La La Land' Musical Number Recreated In Austin, Texas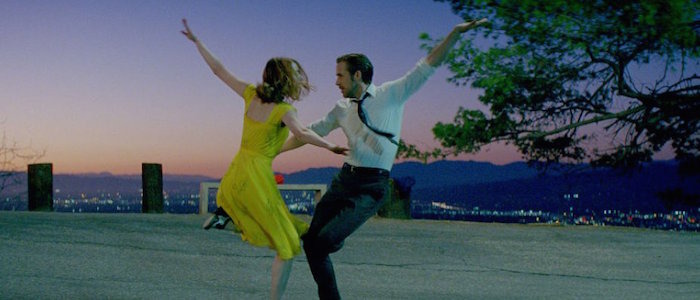 This news story begins with an anecdote. I arrived early for an interview during The Edge of Seventeen press and found myself killing time with the local PR folks. They told me they were working on a promotional campaign for the upcoming film La La Land. I suggested they take advantage of the fact that it's an old-fashioned musical. To my surprise, they ended up taking me very literally. So I'm pleased (and a little shocked!) to help premiere this lovely video, where a key scene from Damien Chazelle's Oscar frontrunner is recreated in public, with the Austin, Texas skyline as a backdrop.
This video was created by Fons PR, the same people behind that Blair Witch campaign that transformed Austin into a witch-haunted town overnight. A little bit of hucksterism goes a long way.
But this is a promotional stunt of a very different flavor. Jordan Steele, a weatherman with KEYE-CBS and co-host of the We Are Austin morning show, steps into the white shirt and black tie of Ryan Gosling's Sebastian Wilder. Yelena Laningham, a local dancer, takes on Emma Stone's Mia Dolan. While Steele isn't a dancer, he trained with Laningham for weeks to recreate the "A Lovely Night" number from La La Land on the Lamar Bridge, a "pop-up" number that pays tribute to how how many classic movie musicals involve people breaking into song and dance in public.
The result is a "love letter to the the award-nominated film and our gorgeous city and being dreamers," to quote Brandy Fons of Fons PR. It's a little rough around the edges, but that's the inherent charm of the whole thing.
For the sake of comparison, you can see glimpses of the original number in the film's trailers.
La La Land has been generating buzz throughout 2016 and it's been nominated for a number of awards and entrenched itself on plenty of top ten lists. Our own Angie Han saw it at the Toronto Film Festival, where she spoke highly of the film's musical numbers:
...it all comes together in a deliciously bittersweet epilogue that combines the starry-eyed fancy of the first half with the tougher reality of the second half. The music throughout is aces. Standouts include the opening number, "Another Day of Sun," which gets the film off to a rousing start, and the third-act ballad "Audition (The Fools Who Dream)" is a true showstopper. The latter is sparsely staged — most of it is just a closeup of Stone's face — but in the moment she brings the house down with the power of her emotion. On my way home from the screening, I caught myself humming the main theme, the wistful "City of Stars." And at that moment, Toronto felt just a little bit more magical.
La La Land is in limited release as I type this sentence, but it expands into more theaters tomorrow.