Director Roland Emmerich Will Craft Some 'Dark Matter'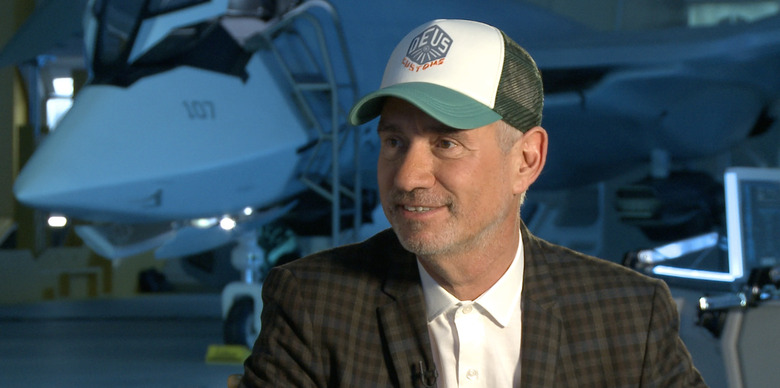 Earlier this year, I was the only person on the planet mentally unwell enough to defend Independence Day: Resurgence, one of the most critically reviled blockbuster in a year chock-full of movies that audiences of all stripes flat-out rejected. I suppose I just have a soft spot for director Roland Emmerich, whose filmmaking has evolved over the years from "glossy Irwin Allen riff" to "hilariously cruel, misanthropic insanity." It came as no surprise that Emmerich's next movie was supposed to be a science fiction thriller about the moon plummeting into the earth. That was the next logical step.
But Emmerich has other interests, too, like trying to prove that Shakespeare didn't write his plays and making hideously awful movies about important events in LGBTQ history and, apparently, reading the work of author Blake Crouch, since he's in currently looking to adapt his 2016 novel Dark Matter.
Variety reports that Emmerich is in negotiations to helm the science fiction thriller, which follows a college physics professor who wakes up one day to find his entire world changed: his wife is not his wife, his child doesn't exist, and he's a world-famous genius who has discovered how to journey to other dimensions. I don't know anything beyond that, but it's certainly a strong hook with the kind of intriguing mystery that is probably hiding a twist or three.
This isn't the first time Crouch's work has been adapted. His Wayward Pines trilogy (Pines, Wayward, and The Last Town) was adapted into the television series of the same name, which aired its second season on Fox earlier this year. That series' pilot was helmed by M. Night Shyamalan (who also has an executive producer credit), which means Blake Crouch has become a magnet for directors I continue to like even as the rest of the world has apparently turned on them.
Is Emmerich attracted to Dark Matter because it's a small-scale science fiction tale that will be a refreshing change of pace or because it eventually ends in the world being torn apart by forces beyond our comprehension? It looks like I may have some homework ahead of me.
For additional details, here is the official publisher's description of the novel:
"Are you happy with your life?" 
Those are the last words Jason Dessen hears before the masked abductor knocks him unconscious.
Before he awakens to find himself strapped to a gurney, surrounded by strangers in hazmat suits.
Before a man Jason's never met smiles down at him and says, "Welcome back, my friend."
In this world he's woken up to, Jason's life is not the one he knows. His wife is not his wife. His son was never born. And Jason is not an ordinary college physics professor, but a celebrated genius who has achieved something remarkable. Something impossible.
Is it this world or the other that's the dream? And even if the home he remembers is real, how can Jason possibly make it back to the family he loves? The answers lie in a journey more wondrous and horrifying than anything he could've imagined—one that will force him to confront the darkest parts of himself even as he battles a terrifying, seemingly unbeatable foe.
Dark Matter is a brilliantly plotted tale that is at once sweeping and intimate, mind-bendingly strange and profoundly human—a relentlessly surprising science-fiction thriller about choices, paths not taken, and how far we'll go to claim the lives we dream of.