'Kedi' Trailer: It's A Feature-Length Cute Cat Video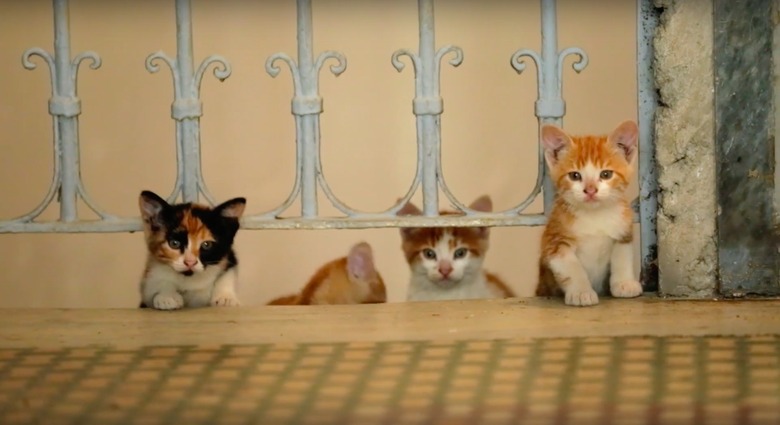 While we at /Film love cats as much as anyone on the internet, we also consider ourselves a Super Duper Serious Movie Website. And sadly, that means we can't just go around posting any cute cat video that strikes our fancy. But every once in a while, everything works out and our passion for cinema dovetails beautifully with our interest in adorable animals. Today is one of those days.
Oscilloscope Laboratories has released a new trailer for Kedi, Ceyda Torun's documentary about the cats of Istanbul. They're technically strays, but this isn't an ASPCA ad about sad abandoned pets — in fact, it kinda looks like these kitties own the place. Essentially, it's a feature-length cat video, except shot way better and with some additional (human) musing about how great cats are. If you like cats at all, you will definitely want to watch the Kedi trailer below.
Kedi Trailer
This looks like a March of the Penguins-style nature documentary except that instead of chronicling the lives of exotic animals in remote wild areas, it's about a bunch of ordinary cats who live in a big city. Time will tell whether Kedi has any grand insights to offer about the nature of cats, but I'm in even if it's just 90 minutes of watching these creatures roam around the streets of Istanbul. Of the cats introduced in the video, I'm especially partial to Gamsiz ("The Player"), who reminds me of my own cat.
Kedi opens February 10, 2017.
Hundreds of thousands of Turkish cats roam the metropolis of Istanbul freely. For thousands of years they've wandered in and out of people's lives, becoming an essential part of the communities that make the city so rich. Claiming no owners, the cats of Istanbul live between two worlds, neither wild nor tame –and they bring joy and purpose to those people they choose to adopt. In Istanbul, cats are the mirrors to the people, allowing them to reflect on their lives in ways nothing else could.
Critics and internet cats agree – this cat documentary will charm its way into your heart and home as you fall in love with the cats in Istanbul. This film is a sophisticated take on your typical cat video that will both dazzle and educate.