'Ocean Waves' Trailer: Studio Ghibli's 1993 Film Is Finally Hitting American Theaters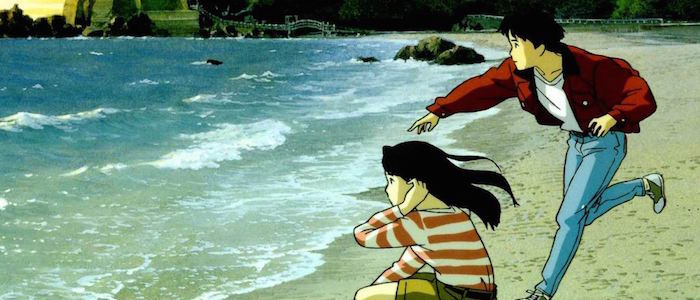 The great Hayao Miyazaki announced his retirement a few years ago following the release of The Wind Rises, only to come out of retirement a few years later to try his hand at CG-animation before announcing last month that he's prepping his next animated feature. In other words, the rumors of Studio Ghibli's closure were greatly exaggerated, especially since there are other talented storytellers working for Japan's most beloved animation studio, who have released The Tale of Princess Kaguya and When Marnie Was There since Miyazaki's "retirement."
And while it may be a few more years before their next feature arrives, Studio Ghibli is delivering an unexpected gift to American fans: a 4K restoration and release for Ocean Waves, their 1993 drama that was never released in the United States.
While the most famous Studio Ghibli tend toward the fantastical and the nostalgic, Ocean Waves is very much a grounded drama, following two friends who find themselves caught in a love triangle when a new girl arrives at their high school. Directed by Tomomi Mochizuki and based on the novel by Saeko Himuro, the film was the studio's attempt to let their younger staff members take the helm on one of their projects.
The trailer, which is dialogue-free, focuses solely on the film's lovely animation, which is detailed, naturalistic, and full of character.
Following in the footsteps of 1991's Only Yesterday, which received its long-delayed American earlier this year, Ocean Waves is the final unseen-by-Americans Studio Ghibli to receive a stateside release. The 4K restoration will open on December 28 at IFC Center in New York City and will play for one night at the Egyptian Theatre in Los Angeles, with a home video release arriving early next year.
Here's the official synopsis for the film:
Rarely seen outside of Japan, OCEAN WAVES is a subtle, poignant and wonderfully detailed story of adolescence and teenage isolation. Taku and his best friend Yutaka are headed back to school for what looks like another uneventful year. But they soon find their friendship tested by the arrival of Rikako, a beautiful new transfer student from Tokyo whose attitude vacillates wildly from flirty and flippant to melancholic. When Taku joins Rikako on a trip to Tokyo, the school erupts with rumors, and the three friends are forced to come to terms with their changing relationships.
And here is the poster for the American release: