'The Goldbergs' Will Wax Off With A 'Karate Kid' Episode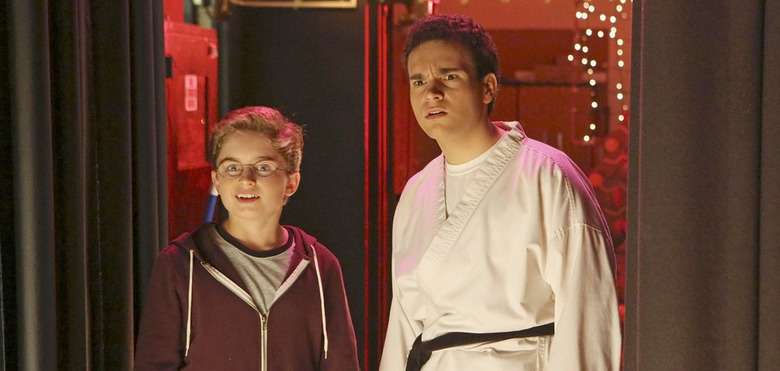 The ABC sitcom The Goldbergs is deeply entrenched in the nostalgia of the 1980s. Currently in its fourth season, the series has paid tribute and featured plenty of homage to favorites like The Breakfast Club, Ferris Bueller's Day Off, Dirty Dancing, The Goonies, Say Anything, A Christmas Story and more. So it should come as no surprise that another iconic 1980s movie will get the same treatment (confounding the show's true timeline even more) in an episode coming in 2017.
The Goldbergs will deliver their annual homage episode to the 1984 sports drama The Karate Kid. But which of the Goldberg children will take on the mantle of the student? Find out after the jump.
The episode will actually put Adam (Sean Giambrone) and Barry (Troy Gentile) in the shoes of Ralph Macchio as they are both cornered by a tough kid at school. But both of them will have the opportunity to show they aren't afraid of the kid as a school-sanctioned karate match materializes. And who better to mentor them than their mother Beverly (Wendi McLendon-Covey) as a sort of "Mr. Momyagi," as coined in Entertainment Weekly's story.
The Goldbergs Karate Kid episode may not sound like it's any different from the regular episodes of the show that feature endless references to the 1980s, but this will be one of those episodes where its entirety is devoted to a particular movie rather than just having specific scenes with homages and references.
Honestly, I'm surprised it took this long for a Karate Kid episode to come together. Barry has always shown an obsession with martial arts since the beginning of the show, so it was bound to happen at some point. The question is what kid at school will be giving he and his brother problems. Will it be a guest role played by a recognizable actor or just a one-off appearance from a random young actor?
This special episode will air sometime later in the early winter months of 2017 or in the early spring time, so we'll be waiting awhile before we see these two karate kids showing their stuff. What are the odds that we get a cameo from Ralph Macchio or William Zabka? They don't have much to do besides appearing on the Comedy Central Roast of Rob Lowe or How I Met Your Mother respectively, so they should have plenty of time to make some kind of appearance, right?
In the meantime, you can watch Saturday Night Live's parody of The Karate Kid starring John Cena right here.